Hello Canon. Good-bye Epson production slowdowns.
The Canon Pixma Pro-100 along with AccuRIP Ruby™ software and Freehand's Dmax Ink™ refillable system is a game changer for the screen print industry. Thanks to Freehand, this printer will have you ditching your desktop Epson and switching to a workflow that saves you up as much as an amazing 900% on ink production costs. You'll also appreciate uninterrupted printing when an ink cart is empty or doesn't read in the printer.  Canon's removable printhead transforms cleaning into a fast and easy process. There's much more to learn, read on…
Spend a lot less to achieve a lot more!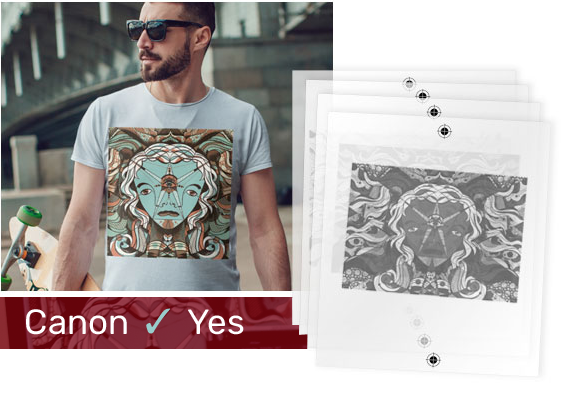 Print an astonishing 1800 individual small logo designs from just one load of All Black Ink in the Canon Pixma Pro-100…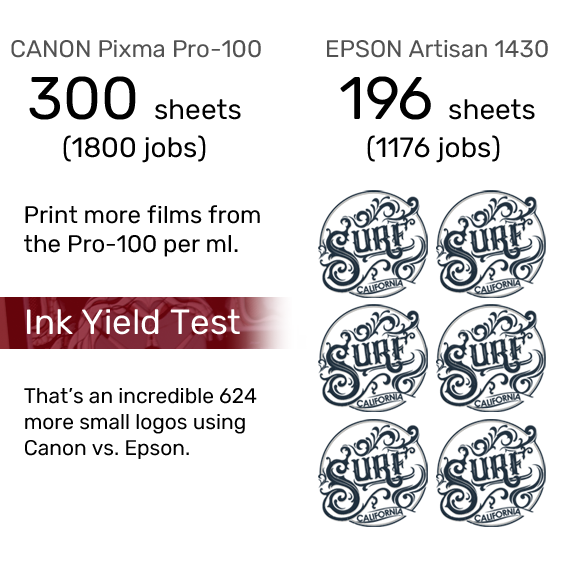 In a head to head competition between the Canon Pro-100 and the Epson Artisan 1430 using Freehand's software, ink and film the Pro-100 out performed the 1430 in ink yield. The results were dramatic. Milliliter to milliliter the 3 inch logo (6 logos per art board) produced 300 films from the Canon and 196 from the Epson. The 8 inch logo (1 log per art board) produced 205 films from the Canon and 130 films from the Epson. If you're looking for greater ink yield the clear productivity winner is the Pro-100.
Select AccuRIP Ruby CP™ and a Canon Pixma Pro-100 for film printing success. The bundle includes Freehand's refillable Dmax™ ink kit. Yes, you can exchange a previous version such as Black Pearl for Ruby. Select Buy Now and read the Exchange info on the page.
Empty ink tank costly downtime is finally over – thank you Canon!
Chip security is smart business for manufacturers. We all understand that. Canon has a better approach that is more friendly to the end user. A single empty/expired chip does NOT shut down print production. With Epson production stops until you address the issue successfully. That has meant days of downtime and frustration for some users. How does Canon do it better? The printer acts as the Chip Resetter and it allows the user to bypass the system to continue to print with less tanks.
People forget to purchase ink, and a chip can unexpectedly fail. We appreciate the Canon approach and you absolutely will too.
Print head cleaning struggles and high costs are over – thank you Canon!
Canon offers efficient printer maintenance: even desktop models have a cleaning and deep cleaning mode, as well as an easy to remove printhead. Clean the printhead.  it. A shallow bath of Freehand's Amaze-Ink™ Maintenance fluid is a simple 30-minute soak. Epson head and nozzle cleaning is a much more involved, and it uses valuable ink to try to force the blockage out. You'll experience far less ink loss during a Canon cleaning mode vs Epson. Need a new printhead? Replace it without replacing the printer. Canon handles ink more efficiently. We think Canon has Epson beat with user-friendly and cost effective options. Where Epson and AccuRIP have made dedicated film production reliable and productive, Canon and AccuRIP Ruby has dramatically enhanced the overall experience including reducing film production costs. 
Proper ink density for screen exposure – thank you Freehand!
Canon and Epson do NOT formulate their inks for the film printing needs of screen printers – that's very important to understand. Therefore their inks will not deliver the density for proper screen exposure that Freehand's dye inks will. Freehand's Dmax Black Dye Ink™ achieves density readings of up to 5.0 and many supported printer models can take advantage of Freehand's pre-filled and refillable All Black Ink™/Dmax™ systems controlled by the All Black Ink™ feature within AccuRIP Black Pearl™ and AccuRIP Ruby™ Software, as well as Separation Studio 4™ Color Separation Software.
Freehand's Black Dye Ink is Best for Screen Exposure! Select ONLY Freehand software and ink solutions.
Ink cost is always on the minds of screen printers and Freehand continually works to keep the costs down and the yield high. We fight many battles for our users so inkjet and bubble jet technologies will remain smart and cost-effective options for film printing.  The more quality films you can produce with each milliliter of ink the better for your bottom line. Production cost is not just about the price of software, ink and film – it's about production time and YIELD. Freehand's lab team is dedicated to testing, analyzing  and number crunching for each printer model. We carefully select the models to support.
Thanks to all that Freehand does it costs coins and not dollars to produce separations. And, compared to other solutions "marketed as screen print products," it's Freehand's ink formulation that delivers the absolute best results!
Imagine if your output options were only from high cost imagesetters, or from companies not focused on the needs of screen printers?
Ink yield numbers off the chart – thank you Canon!
AccuRIP Ruby™ Software released in early 2019 expanded 13×19 format options from just Epson to Canon – specifically the Canon Pixma Pro-100 bubble jet printer.
Users that switch their desktop printer from Epson to Canon will see ink cost reductions as great at 900%. WOW, but how? A full compliment of Dmax ink replacement tanks in an Epson 1430 pre-filled tank system is $99. The Canon Pro-100 can utilize Freehand's new refillable tank system with Freehand's Dmax Dye Ink™ and includes a 240 ml bottle of Dmax ink. The Pro-100 will get about 3 fills. At a cost of $50.40 for 3 complete fills in an 8 slot printer vs. 1 complete fill in a 6 slot printer you can see that your per ml cost has gone way down!
Whether it's time to switch away from the Epson 1400 or 1430, or you want to get on board with the Pixma Pro-100 system driven by AccuRIP Ruby™ – saving on ink cost is just one immediate advantage. Canon has other benefits a screen printer will appreciate.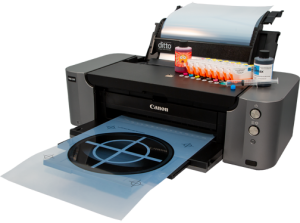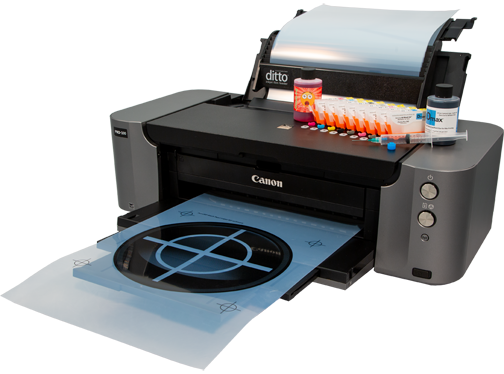 Freehand plays a leading role in film production for screen printers. Great results from Canon and Epson supported printers happens thanks to AccuRIP and Freehand's Dmax™ and All Black Ink™ systems.
Freehand engineers its solutions for:
• achieving UV light blocking for the critical screen exposure process
• producing more prints per milliliter of ink
• keeping production high and downtime low
Understand the differences between Canon bubble jet and Epson inkjet technology. There are some game changing features and benefits.
Low cost printer, strong hardware – thank you Canon!
A well constructed printer at a great price is what you can expect from Canon and Epson. But, someone has to be the winner… and we're impressed with the Canon hardware, cost and favorable rebates. Canon is solidly built and runs smooth and quiet. The body will last a long time. If the printhead of and Epson desktop dies, you'll be ordering a new printer. You can order a replacement printhead for the Pro-100 and easily remove and replace it.
We love Canon's true "squared resolution" 600 x 600 or 1200 x 1200. Squared resolution delivers outstanding detail and edge quality. Epson uses non-squared resolutions such as 1440×720 meaning the vertical always gets more attention than the horizontal. Canon results come closer to imagesetter quality.
A greener solution – thank you Freehand!
A Freehand solution user is always the clear winner. We continue to go greener with our ink solutions taking advantage of sound technologies. Green solutions AND efficient solutions is always the goal!
While a move to a Canon Pixma Pro-100 is absolutely a smart one, we don't want you to feel like you made a bad decision as a Freehand customer. It's all about productivity and yield. We encourage you to look at your pre-press department as the valuable department it is for your company. At Freehand we've made film printing for the screen exposure process a professional process. Keep coming back to Freehand as you grow your business and streamline your procedures, or come over to Freehand and appreciate the best of the best.
Select a Ruby bundle for Canon Pixma Pro-100 film printing success. All software is bundled with Freehand's refillable Dmax™ ink kit. Yes, you can exchange a previous version such as Black Pearl for Ruby. Select Buy Now and read the Exchange info on the page.