AccuRIP™




Emerald
Film printing… from art file to inkjet with ease and accuracy
AccuRIP™ Emerald is our most powerful, user friendly and intelligent version of screen printing software yet. Built for what's next in the inkjet print industry
Reimagined and redesigned. Print directly from Sep Studio™ NXT, Adobe™, Corel™ or any of your favorite graphics programs. Postscript™ is the language of graphics. Raster inkjet printers are non-postscript devices. AccuRIP™ Emerald is the necessary language translator that makes film positive printing possible and controllable. Every screen printer with a compatible Epson or Canon inkjet printer needs AccuRIP™ Emerald RIP software.
IMPORTANT:
Verify now your printer is Certified and compatible. CLICK HERE.
Windows 8 and higher • Mac High Sierra and higher
Minimum Screen Resolution: 1920×1080
AccuRIP Emerald
Software
License
$199/yr
2 activations* / cloud and usb

FREE updates

Unlimited support

24/7 user control
AccuRIP Emerald
w/ refillable
iX6820 ink kit
$299*
Emerald annual license

2 activations* / cloud and usb

Free updates / unlimited support

Canon iX6820 ink kit
AccuRIP Emerald
w/ Dmax Ink
500mL bottle
$279*
Emerald annual license

2 activations* / cloud and usb

Free updates / unlimited support

Canon or Epson Dmax Dye Ink
AccuRIP Emerald
Software
License
$199/annually
2 activations* / cloud and usb

FREE updates

Unlimited support

24/7 user control
AccuRIP Emerald
w/ refillable
iX6820 ink kit
$299
Emerald annual license

2 activations* / cloud and usb

Free updates / unlimited support

Canon iX6820 ink kit
AccuRIP Emerald
w/ Dmax Ink
500ml bottle
$279
Emerald annual license

2 activations* / cloud and usb

Free updates / unlimited support

Canon or Epson Dmax Dye Ink
AccuRIP Emerald Film Printing Software for Screen Printers:
Reimagined and Redesigned
Our newest software AccuRIP™ Emerald is totally reimagined, delivering streamlined workflows and business options including a pixel perfect Proof Positive Print Proof! Supporting many popular printer models, the Screen Print industry now has the flexibility it needs to be competitively productive.
Fully redeveloped to be compatible with Apple's NEW OS direction and M1 chip. Multithreaded AccuRIP™ Emerald will process files even faster than before on Windows OS, too.
Our easiest to operate version yet! Now with a single powerful MONO vs ABI toggle switch controlling ink flow is easier than ever.
Help is everywhere. Under every tab in the software as well as the support menu you are just a click away from expert assistance.
When it comes to business software AccuRIP Emerald out shines all other competitive workflows. Simple to install, easy to operate, this is the best business software for a busy print shop.
Freehand and you, together we got this.
AccuRIP Emerald POWER DELIVERED!
AccuRIP Emerald Features & Support:
Pixel Perfect Proof Positive Preview.

Save separations to a DCS2.eps file.

Single Universal Emerald RIP print driver.

N-Up(nesting) saves film.

ABI Dmax™ black dye ink printing supported for select models.

Tab based user interface delivers fast feature access.

24/7 web based user activation control center.

Zoom and Pan tools

User Interface theme colors.

Unlimited Support.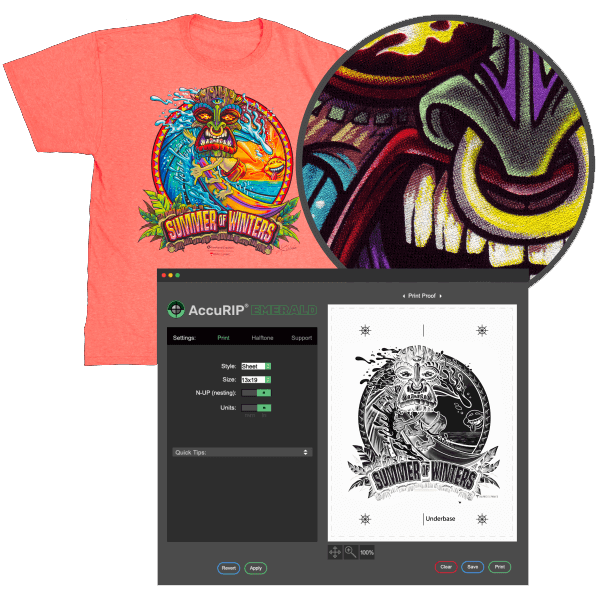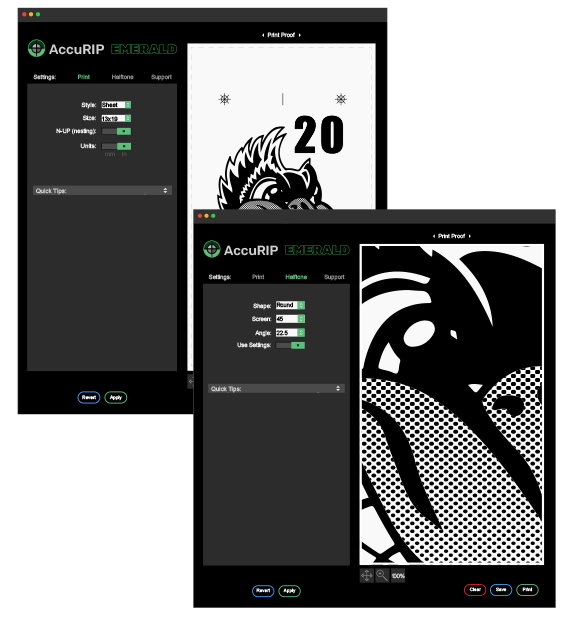 Welcome to AccuRIP™ Emerald the gem of RIP software.
AccuRIP Emerald screen printing software shines with a pixel perfect Print Proof preview. Never again worry or wonder what is coming out of your printer. With Print Proof you'll know before you click the print button. See every film "exactly" as it will print. Print Proof displays a high resolution proof exactly as it will be printed or saved to a file.
See every crisp halftone, deep dense solid area and sharp edge spot color before printing. Not a small misleading FPO (for position only) preview, this is the print data displayed in full print quality!
AccuRIP™ Emerald brings the future of printing to the industry today.
Bring on Eco-Tank printing! No more little cartridge supplies that run out fast or have issues installing. Buy Dmax™ Ink by the bottle filling your printer "to the max" with more ink than ever before!

No more ink tank chip issues!

No more worrying about firmware updates.

Friendly with printer warranty!

SAVE DCS2.eps files for CTS (computer to screen) workflows.

Sleek NEW user interface is easy to navigate.

Unlimited Support, Quick Tips and video links right where you need them most.

Never before has it been this easy to get things right every time.

Quality results, peace of mind and improved production.
Check the updated list of ABI compatible printers and other film printing solutions approved by Freehand. CLICK HERE
In 2007 Freehand introduced to the screen print industry All Black Ink printing to better control ink cartridge-based printers. Matched with Freehand's Dmax™ black dye ink screen printers gained economic and technical advantages.
In 2021 Freehand again leads the field in taking advantage of the new style chip and cartridge-less printers known as Eco and Mega, by Epson and Canon. Fill a larger ink tank with Dmax black dye. Some printer models can hold hundreds of milliliters of ink!
Reimagined and redesigned, users will no longer struggle with cartridge microchips that fail, chip resetters, or slowdowns associated with filling multiple cartridges at random times. Large capacity ink tanks deliver a better experience.
Our most eco-friendly solution, Freehand again reduced the plastic, microchip, and battery footprint. Supporting tank style printers is another giant step toward a greener solution.
Both packages include Freehand's ABI (All Black Ink feature) at no additional cost. Check the Certified Printer list for printer models that take advantage of this great feature.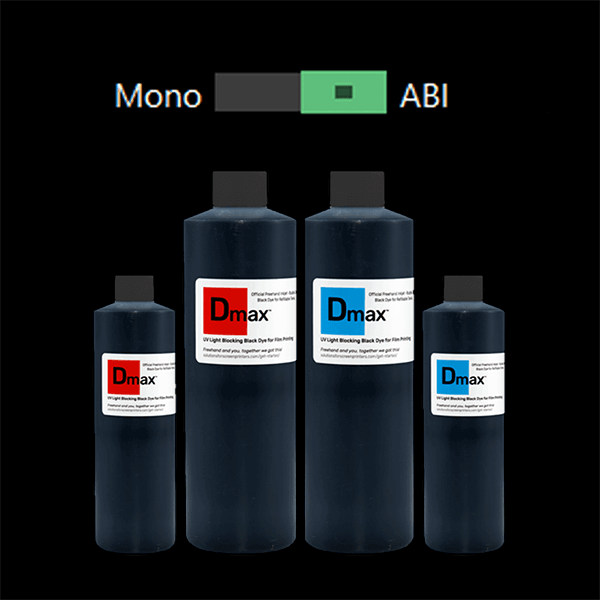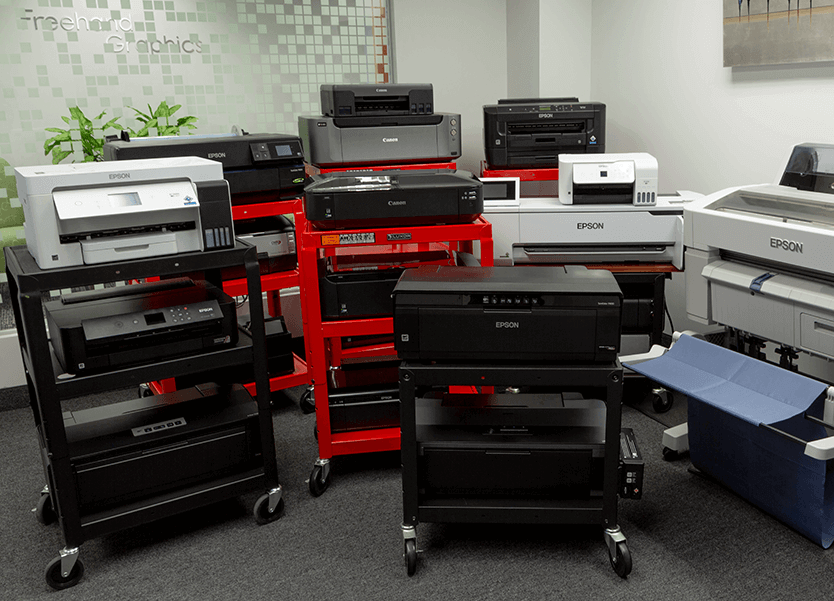 About Printer and Computer Compatibility.
Certified printers are models tested and approved by Freehand for the purpose of printing screen print ready films.
View the fast growing list of Certified printers and Computer Technical Requirements CLICK HERE.
Downtime is Gone Forever!
Let's face it, computer hardware failure is a big problem and it seems to happen at the worst time. Getting your screen printing software reinstalled and activated should not add downtime to an already stressful situation. Freehand makes it easy.
With iLok online cloud control manager you can activate/deactivate/move a software license at anytime. No more need to submit support tickets or install trials. You are in total control 24/7.
Each software license allows a cloud and ilok USB dongle activation on separate computers. That's 2 simultaneous activations to prevent downtime while ensuring and expanding production.
iLok® dongles are low cost and readily available online from sources like Amazon.
WHAT OUR CUSTOMERS ARE SAYING
Freehand was absolutely fantastic, they helped clear up our software conflicts. Fast, knowledgeable, and did I mention fast? Can't ask for better online support A+++ . Review #426

Your tech support at Freehand is truly results driven...I appreciate your team spending time on my issue. Thanks! Review #454

Thank you so much for the login. Such a simple issue that probably could not have been handled so well in any other way. Review #349

Your knowledge of the product, and the remote connection to ultimately resolve the problem and get me up and running was awesome. I really appreciate the guidance. Review #119

Once again, I send you thanks. Your professionalism and efficiency have made my job easier. We will definitely be working together in the future. Review #94

Thank you for responding so quickly. You guys have the best support web site and staff in the business. Review #174

WOW! Works like a champ. Thanks for the help. I really appreciate it. Back to work. Review #198

Great product. Great support and service. I wish we would have started out with AccuRIP instead of two dongle failures and various output issues with our original RIP software purchase. Review #232
Unlimited Screen Printing Software Support Included
When you take a free trial or purchase any software/product sold by Freehand you enjoy unlimited assistance from a team of in-house experts and professional screen printers unequaled in the industry. Since 1995 we've been supporting the software and products we engineer. We're fanatically good at what we do for you.
Unlimited live agent support included

Screen Print and computer experts

Safe/Secure direct Remote Login support

Unlimited file and workflow assistance/evaluation for Adobe™ and Corel™ users

Full range of self-help videos, articles, and tips available 24/7