AccuRIP™




Emerald
film printing software and solutions
COMING SOON! AccuRIP™ Emerald our most powerful, user friendly and intelligent version of screen printing software yet will be available April 2021.
In the meantime remain productive using a FREE 30 day trial of PrintFab RIP. Also get FREE a 1 year full license of AccuRIP™ Emerald. Learn More
Totally reimagined and redesigned this screen printing software is for every user. Now multithreaded for even faster processing. Upgraders and new users will immediately enjoy full OS compatibility while supporting legacy and NEW printer models.
Now with 24/7 Direct User Activation Control, two installs per license and free fast flowing updates. Freehand has aggressively invested and developed a NEW standard for the screen print industry.
Starting strong in 2021, supporting current users, shipping supplies and product, Freehand is even stronger than before and you will be too.
Be the first to get the best. Using the subject line (AccuRIP Fast Track Prerelease List) send an email to sales@solutionsforscreenprinters.com telling us you are interested to use this new version of RIP software and we'll put you on a list to be alerted when Emerald is released. As a thank you we'll send you a special coupon for supplies.
Reimagined and Redesigned in 2021
2021 brings a lot of good changes to Freehand and us all. Our newest software AccuRIP™ Emerald is totally reimagined delivering streamlined workflows and business options including a pixel perfect Print Proof! Fully redeveloped to be compatible with Apple's NEW OS direction and M1 chip. Multithreaded AccuRIP™ Emerald will process files even faster than before on Windows OS too.
Our easiest to operate version yet!
The end of 2020 was the best time to tear it all down, move away from legacy codes developed back in mid 2000's to prepare for the years of growth keeping up with the latest trends and technology advancements. With Epson redesigning its product line while struggling to repair its supply chain, Apple moving to a better proprietary M1 chip set and OS, Windows preparing to keep pace with new releases Freehand saw this as the right time to fully prepare for the future too. Servicing the screen print industry for 38 solid years and planning for the next 38 Freehand will always be here for the screen print industry helping to shape, grow, and service it. While others ran or crumbled and some suffering unimaginable challenges Freehand stepped up to carry on investing into US manufacturing and development.
With US based manufacturing, development, distribution and support our product line is growing fast to be your reliable primary source for success. We helped a lot of businesses stay afloat in 2020 and we'll help a lot more thrive in 2021.
Freehand and you, together we got this.
Delivered in early 2021 "users will have ALL THE POWER!"
Here's what you can expect very soon:
Work from home, your shop, anywhere, with 2 installs!

Total FREEDOM through a web based user login control center!

24/7 Activation Control! Your schedule, no down time!

Unlimited Support Included

Updates are INCLUDED for all active licenses.

Eco-Tank bulk Dmax™ black dye ink printing fully supported.

Friendly membership options to fit your budget!

In 2021 Freehand will not stop until we have delivered the best systems and solutions. Here for you then, now and into the future.

Save separations to a DCS2.eps file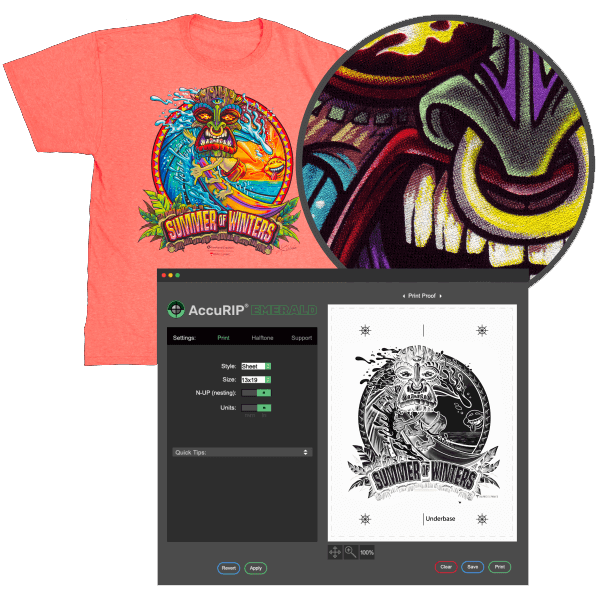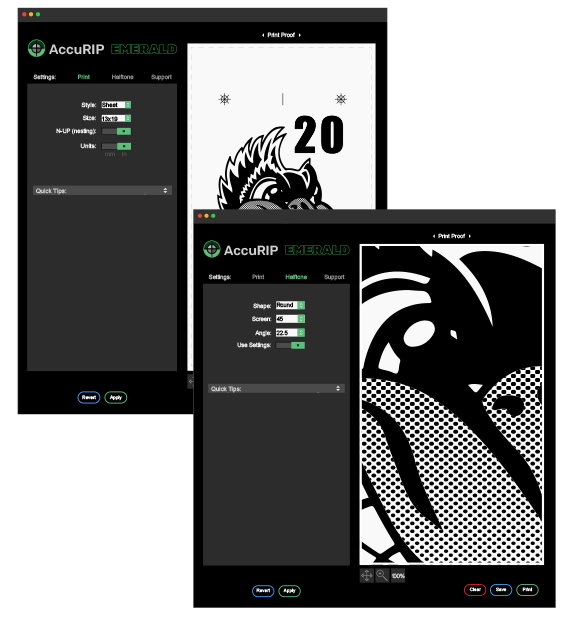 Welcome to AccuRIP™ Emerald the gem of RIP software.
AccuRIP Emerald shines with a pixel perfect Print Proof preview. Never again worry or wonder what is coming out of your printer. With Print Proof you'll know before you click the print button. See every film "exactly" as it will print. Print Proof displays a high resolution proof exactly as it will be printed or saved to a file.
See every crisp halftone, deep dense solid area and sharp edge spot color before printing. Not a small misleading FPO (for position only) preview, this is the print data displayed in full print quality!
AccuRIP™ Emerald brings the future of printing to the industry today.:
Bring on Eco-Tank printing! No more little cartridge supplies that run out fast or have issues installing. Buy Dmax™ Ink by the bottle filling your printer "to the max" with more ink than ever before!

No more ink tank chip issues!

No more worrying about firmware updates. Accept them!

Friendly with printer warranty!

Now SAVE files for CTS (computer to screen) workflows.

Sleek NEW user interface is easy to navigate.

Loaded with support, Quick Tips and video links right where you need them most keeping you as productive as possible.

Never before has it been this easy to get things right every time.

Features deliver quality results, piece of mind and improved production.
Be the First to have the Best.
AccuRIP™ Emerald for Mac and Windows is coming soon!
Development of this new version is moving fast. Freehand expects to release AccuRIP™ Emerald early March 2021.
Jump onto our Fast Track client list. Get special deals on software/supplies and a personal notification pre-release by sending a "no commitment" e-mail to us.
Current upgrade and new users will enjoy special offers pre and post-release.
Using the subject line (AccuRIP Fast Track Prerelease List) send an e-mail to sales@solutionsforscreenprinters.com telling us you are interested to use this new version and we'll send you a special coupon for supplies as a thank you.
In the meantime remain productive using a FREE 30 day fully functional trial of PrintFab RIP. Your trial and purchase includes unlimited U.S. based tech support from Freehand.
Users that purchase PrintFab prior to the release date of AccuRIP™ Emerald using shared supported printer models will also receive a FREE 1 year full license of Emerald, tripling installs!
Stay healthy, stay safe, stay a screen printer.
Freehand and you, together we got this in 2021.
WHAT OUR CUSTOMERS ARE SAYING
Freehand was absolutely fantastic, they helped clear up our software conflicts. Fast, knowledgeable, and did I mention fast? Can't ask for better online support A+++ . Review #426

Your tech support at Freehand is truly results driven...I appreciate your team spending time on my issue. Thanks! Review #454

Thank you so much for the login. Such a simple issue that probably could not have been handled so well in any other way. Review #349

Your knowledge of the product, and the remote connection to ultimately resolve the problem and get me up and running was awesome. I really appreciate the guidance. Review #119

Once again, I send you thanks. Your professionalism and efficiency have made my job easier. We will definitely be working together in the future. Review #94

Thank you for responding so quickly. You guys have the best support web site and staff in the business. Review #174

WOW! Works like a champ. Thanks for the help. I really appreciate it. Back to work. Review #198

Great product. Great support and service. I wish we would have started out with AccuRIP instead of two dongle failures and various output issues with our original RIP software purchase. Review #232
Unlimited Support Included
When you take a free trial or purchase any software/product sold by Freehand you enjoy unlimited assistance from a team of in-house experts and professional screen printers unequaled in the industry. Since 1995 we've been supporting the software and products we engineer. We're fanatically good at what we do for you.
Unlimited live agent support included

Screen Print and computer experts

Safe/Secure direct Remote Login support

Unlimited file and workflow assistance/evaluation for Adobe™ and Corel™ users

Full range of self-help videos, articles, and tips available 24/7