Description
All Black Ink™ is Freehand's unique cartridge solution for inkjet users producing film positives or negatives. Color ink is never used for film production. Get rid of the color and get volume of black dye ink for your best films. Films must block UV light and All Black Ink cartridges contain only Freehand's dye (D-Max Ink) formulated to achieve the highest density of any dye ink on the market.
From black dye ink for each slot of a model to single slot solutions, you can be assured that all options are best for producing films you can confidently bring to the screen exposure process.
We recommend using DarkStar Inkjet Film for high density, plus this marriage of products produces results that won't scratch off like so many others.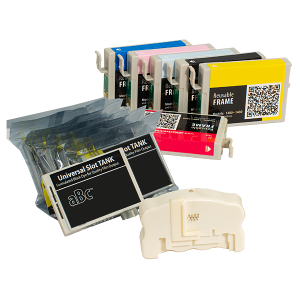 Features and Benefits
All Black Ink users require AccuRIP Software to drive the multi-slot process. The multi-black feature in the Configuration Setup directs the inkjet printer to spray from all or a designated set of slots. By default the software is NOT set to multi-black on. With the multi-black properly engaged users achieve automatic spraying from all black slots. AccuRIP also provides control over the resolution and droplet weight for software versions and printer models that can take advantage of Freehand's multi-black ability whether using All Black Ink or a bulk system with our formulated D-Max Dye Ink in bottles. Control over ink lay down is critical to dialing in settings for your ink and film combo and your screen exposure needs.
Specifications
All Black Ink™ is both an ability of software to use all, any combination of slots, or a single slot thanks to AccuRIP Software driving the spraying of slots based on your setup. It is also a series of products that are preifilled with Freehand's custom formulation ink – Dmax Black Dye. Whether you work with pre-filled All Black Ink Cartridges, or refillable systems that work best with Dmax Black Dye, you'll achieve the quality and density needed for film production and ultimately screen exposure with your film separations.
P400 
Matte Slot Only (pre-filled w/ Dmax dye)
(available in a convenient 3-pack starter kit and replacement set)
---
T3270 • T5270 • T7270
Matte Slot Only (unfilled)
Refillable Cart(oversized 700 ml capacity) includes 1 Liter of DMax Ink
Select T3270 in the pop-down. Cart works ifor T3270, T5270 and T7270.
---
4900
All Slots (11) (unfilled)
Refillable Cart (oversized 200 ml capacity per)
*does NOT include Dmax Dye. Be sure to add Dmax Dye to the cart.
---
Artisan 1430 (1400/1500W)
Starter Kit Contents: 6 frames w/computer chip, 6 filled black dye tanks (snap into frames), Chip Resetter
Refill Set Contents: 6 black dye tanks. First time installation select the Starter Kit.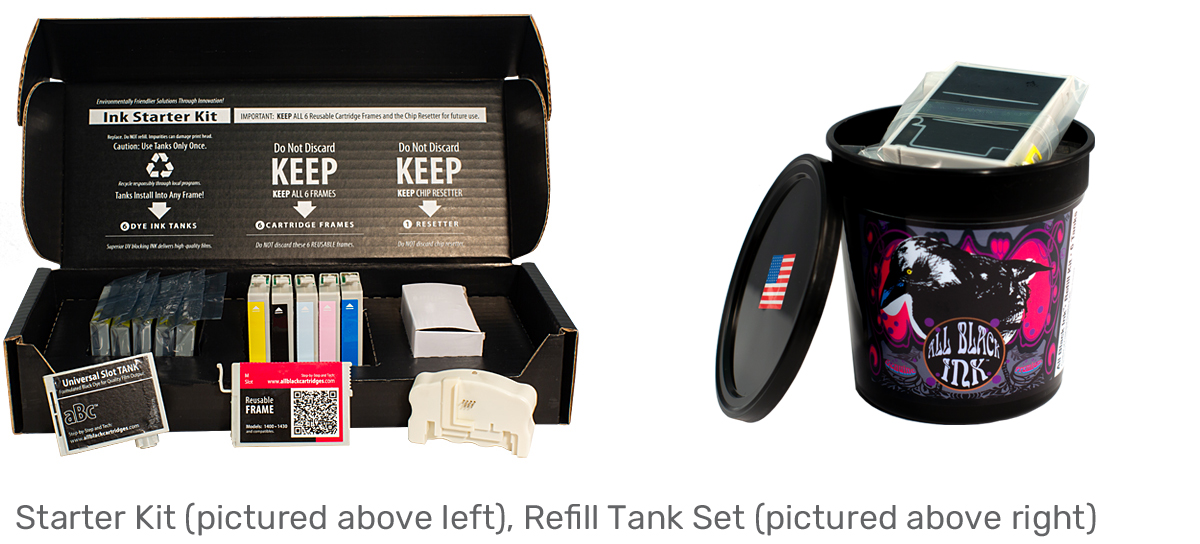 Other
Unless otherwise noted the cartridge capacity (ml of dye ink) matches the Epson capacity of the model. In order to utilize the advertised volume of ink our cartridges are overfilled. A portion of ink will remain in the cartridges even when the printer indicates ink out. Not to worry, this is the overfill necessary for proper ink capacity delivery and is not designed to be accessed. All Black Ink is under a limited warranty against manufacturing defect for one year from delivery.