Sep Studio NXT Prints Direct Using AccuRIP Emerald
    Spot Process™
Separation




Studio™ NXT
Screen Printing Software That Makes Great Separations
Automated Color Separations • PressFit • Flexible Workflow Options • One Click Underbase Creator • Choke and Spread • Load Custom Pre-press Templates, Ink and Textile Sets and so much more…
Sep Studio™ NXT fits perfectly into your existing Adobe™ and Corel™ design world. Developed by screen printers for screen printers. More than a color separation software, it's a business workflow that makes you money.
Windows 8 and higher
Mac High Sierra and higher
Sep Studio NXT Screen Printing Software:
Reimagined and Redesigned
Separation magic with real-world screen-print specific tools and functionality. Plus, the flexibility to use any film printing RIP thanks to a more powerful "SAVE to File" feature that retains stock and custom pre-press marks directly into a .eps file. Sep Studio NXT is truly a solution for every screen printer. Think you can't use Sep Studio NXT because you don't have Emerald? Think again, with a nucleus workflow configuration this software is for you!
Separation Studio NXT Includes:
Legendary Spot Process™ Sim Process color separation engine

Vector PDF color separation engine quickly converts unwanted process to useful spot colors

Streamline Print window loads and organizes your custom pre-press marks templates

Load and edit custom textile and ink sets from your favorite manufacturers

Fly out tool options speed up workflow

Dockable floating windows to customize your workspace

Faster processing of files

Improved separation management for complex gradients

Save and Print through any RIP

Pressmarks saved into file

Registration color and document dimensions honored

and much more…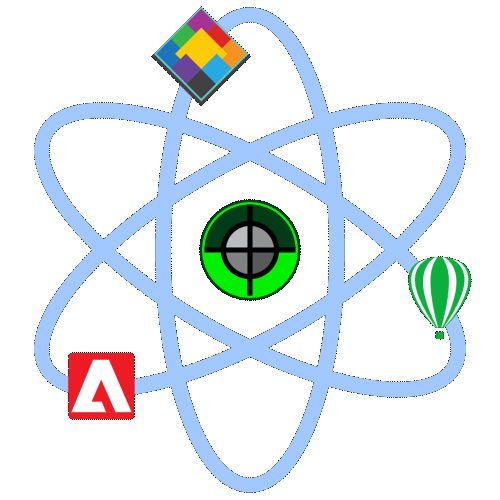 Separation Studio NXT: Nucleus Workflow
A nucleus workflow is more flexible and compatible than any previous printing workflow putting your RIP (AccuRIP or any other brand) at the center and in control of all your printing needs. Flexibility and compatibility far beyond anything prior.
Sep Studio™ NXT and AccuRIP™ Emerald Workflow:
Sep Studio™ NXT, Adobe™, Corel™ or any favorite graphics software process files through AccuRIP™ Emerald to all Certified/approved printer models. Emerald like other RIP software is a separate stand alone software. Download a free trial of Emerald with your Sep Studio NXT trial.
Sep Studio™ NXT with AccuRIP™ Black Pearl, Ruby, PrintFab™, Wasatch™, CadLink™ or any other RIP workflow:
Greater abilities. Import Saved or Exported Sep Studio™ NXT separations into Adobe™, Corel™ or your favorite graphics program printing to an inkjet printer through your favorite version of AccuRIP™ or any other RIP software. This expands your graphics software toolkit delivering flexibility and production options by not limiting the power of printing to just Sep Studio™ NXT.
A nucleus workflow maintains your use of a legacy model inkjet printer through older versions of AccuRIP™ or another brand of RIP software. With a RIP installed onto a local hard drive or setup on a networked RIP server computer (Windows for Mac) using a nucleus print workflow delivers the freedom to modernize all other workstations computer OS and graphic software across your network while keeping the RIP server from falling out of compatibility with your treasured legacy printer.
Things just got a whole lot better.
Separation Studio NXT: Flexibility
Sep Studio™ NXT driven by our legendary Spot Process™ color separation engine will make easy work of your most challenging separation needs.
Sep Studio™ NXT auto detects a file format then properly separates a file into either Sim Process or raster spot color separations. RGB .tif, .png, and .jpg separate into Sim Process seps, while RGB or CMYK vector .pdf or .ai formats are properly separated into high quality raster spot color seps.
Create award winning sim process separations or instantly convert unwanted or overlooked process colors into useful spot color seps.
With a full compliment of editing tools, you can isolate areas, erase, adjust color and density, control saturation and desaturation of colors based on range, choke and spread, make customized base screens, merge colors, load and edit custom pre-press template marks, ink / textile sets and so much more.
Sep Studio's Print Window will "automagically" detect an active license or trial version of AccuRIP™ Emerald allowing direct printing to all certified and supported inkjet printers. Don't print with Emerald? SAVE or EXPORT seps with or without printing marks to print from your favorite graphics program through your existing RIP (Black Pearl, Ruby, Wasatch, CadLink, Onyx, Harlequin…).
This software software is for every screen printer. It's all about flexibility.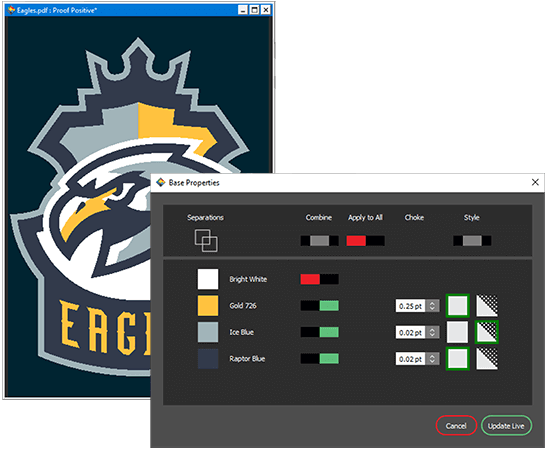 Art prep, color separation and
film output is a snap
Don't waste time fixing client supplied, downloaded, or improperly color managed artwork. Experience the power of color separation automation with intelligence. Have a poorly developed client created or downloaded art file? Expertly separate, manage, then print with control and confidence using Sep Studio™ NXT. The industry's best software developed, sold, and supported by the company that has been leading the screen print industry for the past 5 decades. Freehand and you, together we got this.

Windows 8 and higher
Mac High Sierra and higher

Take full control of your artwork
Check out these features…
vector PDF

support in its own powerful engine

transparency

support (PSD) means placing graphics in front and behind tonal images is always easy when using Adobe and Corel programs

underbase

with choke and spread is the screen print specific ability you've been searching for

auto convert

 unwanted process to useful spot colors reducing screens for customer supplied files and downloaded stock art. The amount of time this auto feature saves each screen print artist is immeasurable

textile

and

press ink

custom libraries connect what you see on-screen to what will happen on-press. Working with libraries is the most efficient way to work

PressFit™

gives you drag and drop control to reduce press screens in a production run

ColorCrunch™

returns. Reduce Sim Process files down to 6 colors or less with just one click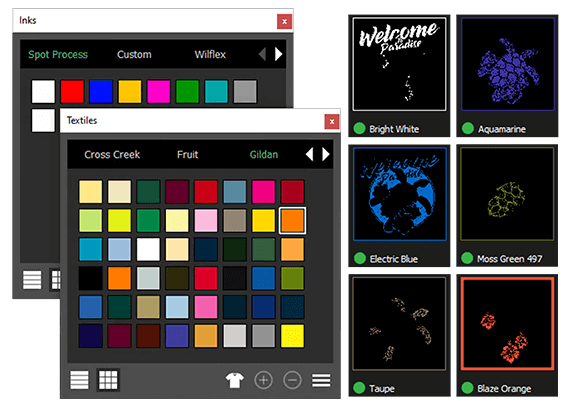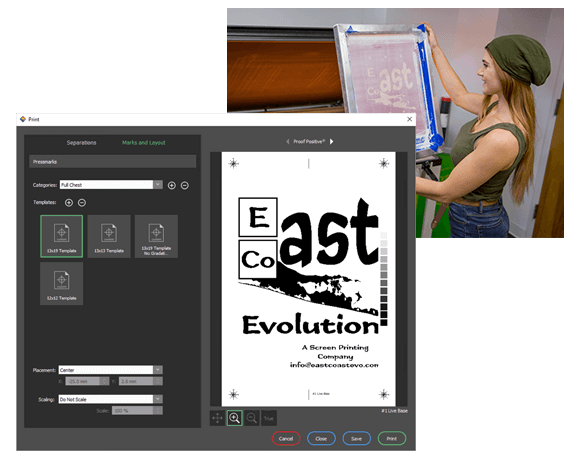 Great films make great screen prints.
Production power is unleashed with Sep Studio™ NXT. More flexible than ever NXT opens the world of graphic applications and RIP software to your business. Print directly through AccuRIP™ Emerald or save files with or without press marks printing through your favorite graphics application and RIP to hundreds of inkjet and DTS printers. Total freedom.
Screen print specific Print Window with preview

Print directly through AccuRIP Emerald or any other RIP program

Load, Edit or create custom Ink and Textile libraries

Dynamic print size and position controls

Control halftone size, shape and angle

Use stock or load custom pre-press mark layouts

Design your own app layout using floating feature windows

Improved file handling opens files faster

Free updates and upgrades all with easy low cost subscription license

Cloud based user controlled license prevents downtime 24/7

Two simultaneous activations per license (one cloud one USB dongle). iLok USB dongle sold separately online at Amazon
Downtime is Gone Forever!
Let's face it, computer hardware failure is a big problem and it seems to happen at the worst time. Getting your screen printing software reinstalled and activated should not add downtime to an already stressful situation. Freehand makes it easy.
With iLok online cloud control manager you can activate/deactivate/move a software license at anytime. No more need to submit support tickets or install trials. You are in total control 24/7.
Each software license allows a cloud and ilok USB dongle activation on separate computers. That's 2 simultaneous activations to prevent downtime while ensuring and expanding production.
iLok® dongles are low cost and readily available online from sources like Amazon.
WHAT OUR CUSTOMERS ARE SAYING
Freehand was absolutely fantastic, they helped clear up our software conflicts. Fast, knowledgeable, and did I mention fast? Can't ask for better online support A+++ . Review #426

Your tech support at Freehand is truly results driven...I appreciate your team spending time on my issue. Thanks! Review #454

Thank you so much for the login. Such a simple issue that probably could not have been handled so well in any other way. Review #349

Your knowledge of the product, and the remote connection to ultimately resolve the problem and get me up and running was awesome. I really appreciate the guidance. Review #119

Once again, I send you thanks. Your professionalism and efficiency have made my job easier. We will definitely be working together in the future. Review #94

Thank you for responding so quickly. You guys have the best support web site and staff in the business. Review #174

WOW! Works like a champ. Thanks for the help. I really appreciate it. Back to work. Review #198

Great product. Great support and service. I wish we would have started out with AccuRIP instead of two dongle failures and various output issues with our original RIP software purchase. Review #232
Unlimited Screen Printing Software Support Included
When you take a free trial or purchase any screen printing software/RIP software/product sold by Freehand you enjoy unlimited assistance from a team of in-house experts and professional screen printers unequaled in the industry. Since 1995 we've been supporting the software and products we engineer. We're fanatically good at what we do for you.
Unlimited live agent support included

Screen Print and computer experts

Safe/Secure direct Remote Login support

Unlimited file and workflow assistance/evaluation for Adobe™ and Corel™ users

Full range of self-help videos, articles, and tips available 24/7