AccuRIP
Ruby™
film printing software and solutions
AccuRIP Ruby EP™ supports 57 Epson printers (replacing Black Pearl).
AccuRIP Ruby CP™ supports the Canon Pixma Pro-100.
With AccuRIP Ruby Software work with the best ink solutions…
Ruby for Canon already includes the Pro-100 Refillable Ink Kit.
Add to your cart a Freehand Ink product for your particular Epson
such as the new 1430/1400 Dmax™ Refillable Ink Master Kit.
  Support for Catalina OS is ready for Ruby™ users!
New users have instant Catalina OS support. Already a Ruby™ user and moving up to Catalina? Simply launch AccuRIP Ruby™ then click the FREE Update Blue Icon to download and run the Installer. You can also login to your My Account to download then run the newest installer.
  Ruby™ enhanced the Epson and Canon film printing experience…
Ruby™ upgrades and enhances the previous Black Pearl version. Click "More Features" below for details on these listed features plus additional features not listed. Enjoy enhanced accuracy, auto maintenance, faster navigation and more…
ENHANCED ACCURACY
Automatically calibrates the print head with every pass through constant calibration, resulting in higher print quality every time for Canon and Epson Ruby™ users.
AUTO MAINTENANCE   VIDEO
Prevent clogs, maintain and clean print heads directly within Ruby™. Stop searching for hidden printer utilities. Finally one easy to access location. Canon Pixma Pro-100, Epson 1430, and Epson P400 desktop model users easily schedule auto maintenance routines and print head cleaning.
ALL BLACK INK™
Updated All Black Ink™ Feature License designed to save you money on essential pre-press film making supplies.
AccuRIP Ruby™ and Dmax Ink™ deliver UV light blocking films
Appreciate the ease and reliability of AccuRIP Ruby EP™ (Epson) or Ruby CP™ (Canon) driver-based printing. Ruby CP™ sold in a bundle with Freehand's Dmax All Black Ink™ (8-tank refillable system) for the sturdy and affordable Canon Pixma Pro-100. Ruby EP™ sold within Freehand's Dmax All Black Ink™ refillable tank bundle or separately.
An easier workflow with dramatic ink cost savings. At Freehand we get it and we keep making things better!
Supported Printers and Operating Systems

  Game changing Canon advantage…
Canon print technology prevents downtime. An empty ink tank doesn't stop you from printing films. WOW! Easy removal and cleaning of the single print head without wasting ink is another Canon benefit. You can even replace the print head under $100. Plus, enjoy high yield at the lowest per ml ink cost as compared to other solutions.
The low cost of the high-quality Pixma Pro-100 is another reason to chose or convert to Canon and Ruby™!
AccuRIP Ruby CP™ (Canon) is NOT sold separately. Bundle includes Freehand's Dmax™ Ink kit.
AccuRIP Black Pearl or AccuRIP 1.01-1.03 users will want to work with an AccuRIP Ruby™ version for Canon or Epson. Previous version users can upgrade for $195.00 software alone or take advantage of our upgrade bundles that deliver high quality essential pre-press supplies lowering the software upgrade cost to just $30.00. Ask a support agent for more details and current offers. Click Learn More.
A Canon desktop complete film printing solution worth having…AccuRIP Ruby CP™, the Canon Pixma Pro-100, and Freehand's Dmax Refillable Ink solution not only offers an enhanced workflow, top-quality results, and driver-based ease of use, but ink costs have gone way way way down!
Ruby™ plus Dmax™ equals success!
easy and effective controls to achieve UV light blocking films for top-quality screen exposure
natural Corel and Adobe workflows to produce black films (solid areas, tints and gradients/blends) from full color images
dense and sharp-edged solid separations you can count on
quality halftone production – what the printer drivers in Canon and Epson don't have the ability to do
full control over halftone shape and frequency size
exclusive Droplet Weight control to quickly dial in perfect film results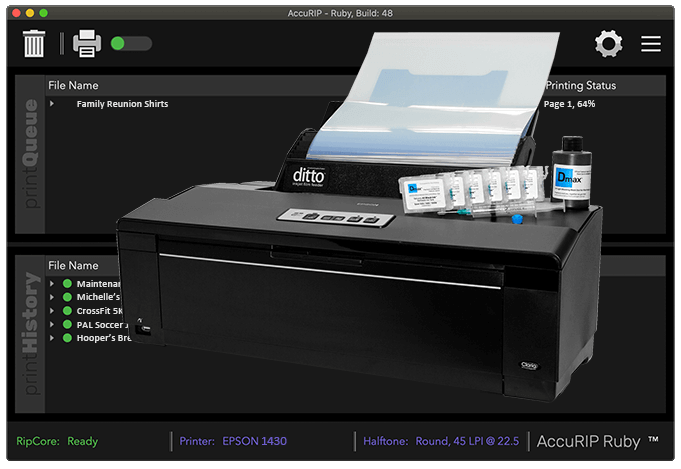 Great news for Epson 1430/1400 users…
Thousands of users of the Epson 1430 and 1400 printers are still printing great films. While Epson no longer offers these printers new, Freehand continues to supply the best ink solutions for these popular printers.
Freehand's Dmax 1430/1400 Master All Black Ink™ Refillable Kit is just $149.95 – Auto reset tank chips means no resetter needed!
WHAT OUR CUSTOMERS ARE SAYING
Freehand was absolutely fantastic, they helped clear up our software conflicts. Fast, knowledgeable, and did I mention fast? Can't ask for better online support A+++ . Review #426

Your tech support at Freehand is truly results driven...I appreciate your team spending time on my issue. Thanks! Review #454

Thank you so much for the login. Such a simple issue that probably could not have been handled so well in any other way. Review #349

Your knowledge of the product, and the remote connection to ultimately resolve the problem and get me up and running was awesome. I really appreciate the guidance. Review #119

Once again, I send you thanks. Your professionalism and efficiency have made my job easier. We will definitely be working together in the future. Review #94

Thank you for responding so quickly. You guys have the best support web site and staff in the business. Review #174

WOW! Works like a champ. Thanks for the help. I really appreciate it. Back to work. Review #198

Great product. Great support and service. I wish we would have started out with AccuRIP instead of two dongle failures and various output issues with our original RIP software purchase. Review #232
  About the All Black Ink™ License…
All Black Ink™ is an exclusive (Freehand invented) Feature in both AccuRIP™ and Sep Studio 4™ Software. It started a revolution for screen printers using affordable devices to print films from more than the single default black tank. Using the All Black Ink™ Feature License means ALL or any combination of tanks are engaged in film production, because instead of spraying color – they spray high quality Dmax black UV light blocking dye. Say good-bye to wasted color ink purchases.
AccuRIP Ruby EP™ (Epson) and Ruby CP™ (Canon) deliver use of the All Black Ink™ Feature License (first year license is included FREE in new and upgrade purchases of AccuRIP Ruby™ software). FREE renewal each year is available (NEVER PAY) with Freehand ink and other product purchases auto credits. Just one All Black Ink™ license (ABI) unlocks a full year's use in both Ruby™ and Sep Studio 4™.
When the All Black Ink™ license is not needed, use the Photo Black slot. The Photo Black slot is the default slot, always available in AccuRIP™.
Freehand's MISSION is that no user purchases an ABI License. As little as one one liter ink purchase over a one year period delivers a yearlong License. Freehand rewards loyal customers with purchase credits that build toward a FREE ABI license. Together we stay strong in business. Freehand and you, together we got this.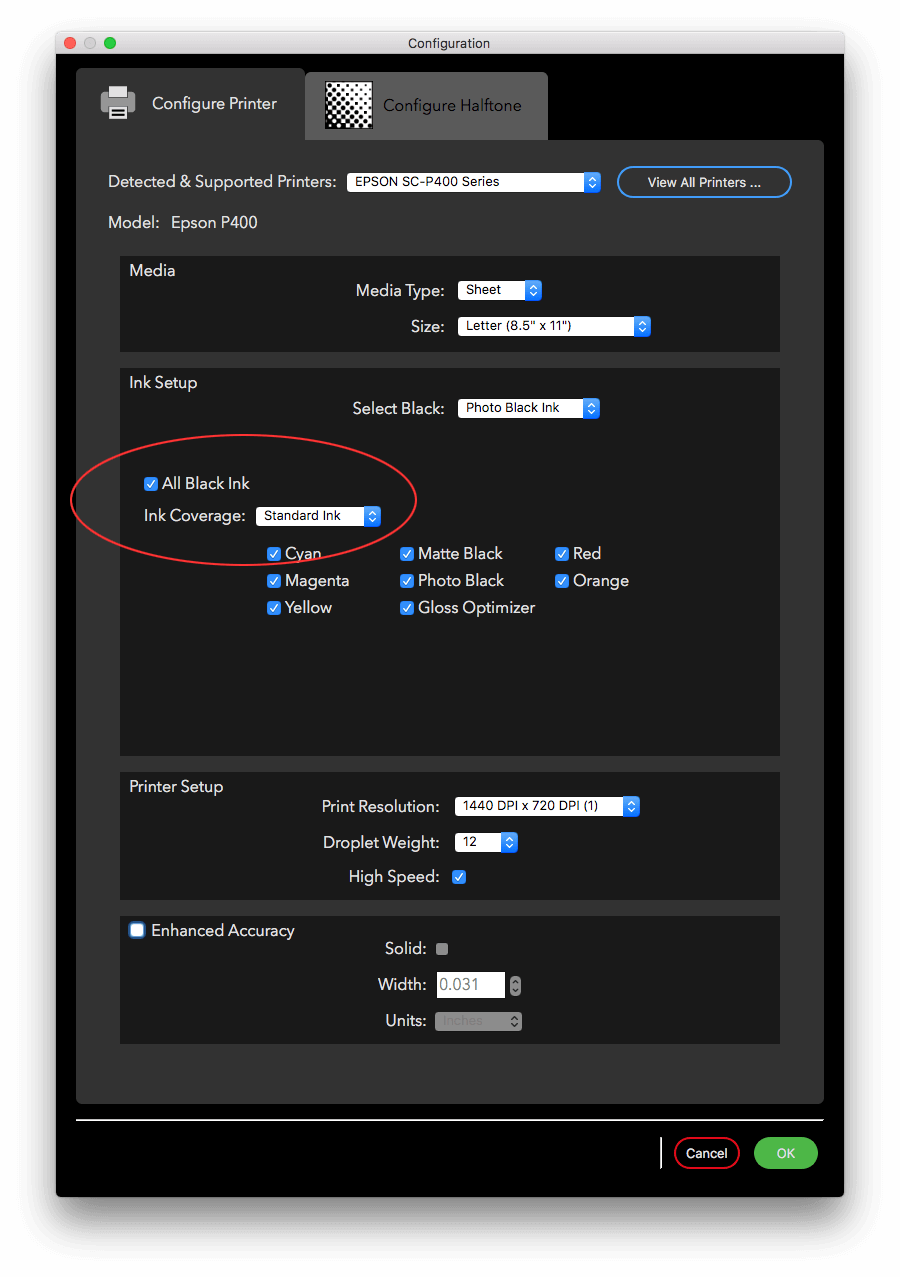 All Black Ink™ is the software feature, Dmax is the ink
Freehand invented the ability to print from all (or any combo) of slots in a printer, and formulated black dye to achieve UV light blocking films. AccuRIP Ruby CP™ (Canon) is bundled with a refillable ink kit with Freehand's Dmax Ink. You'll appreciate that the Canon Pixma Pro-100 works differently than Epson – allowing you to continue to print films when one or more tanks have run out of ink. Although we know you'll keep Dmax on hand, it's great to know Canon and Freehand have designed the way to keep you producing films just in case.
AccuRIP Ruby EP™ (Epson) has a software trial and an All Black Ink™ Feature trial. A purchase includes a free full year use of  the Feature. Simply make an eligible Freehand product or software purchase and the next year renewal is yours FREE.
Fanatical Team Support
When you take a free trial or purchase any Freehand software/product you enjoy FREE assistance from a team of in-house experts and professional screen printers unequalled in the industry. Since 1995 we've been supporting the software and products we engineer. We're fanatical and that's good news for you.
full range of self-help videos, articles and tips
one-on-one support
FREE live agent support during business hours
remote connections to help users directly from their computer
file evaluation and suggestions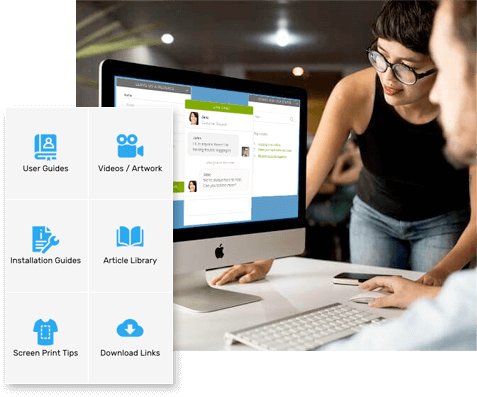 AccuRIP Ruby CP™ (Canon) and Ruby EP™ (Epson)
Drives the entire film output process (halftones and/or solid separations) not achievable without AccuRIP Ruby™.
Activate the All Black Ink™ feature then use Freehand's refillable Dmax™ All Black Ink™ system to transform your printer into a dedicated and efficient film printer.
AccuRIP Ruby CP™ is bundled with the Canon Dmax™ Master Ink Kit and required for use with Canon printers. Dmax™ dye film printing ink is available in bottles for every printer with a refillable tank system.