AccuRIP™
Ruby
film printing software and solutions
Starting early 2021 AccuRIP™ Ruby is no longer available as it is being reimagined and developed into AccuRIP™ Emerald.
Emerald DTP (Direct to Printer) rebuilt from the ground up will be compatible with all the latest computing standards including the new Mac M1 chip and Big Sur OS as well as what's coming next from Windows.
Stay productive. Until the release of Emerald in Q1 2021 Freehand has teamed up with PrintFab RIP software offering a FREE 30 day trial fully supported by Freehand's unlimited U.S. based tech support.
Upgrade and New users welcome. Purchasers of PrintFab will also receive a FREE 1 year license of AccuRIP™ Emerald. LEARN MORE
Ruby to Emerald Upgrade LEARN MORE
Previous Product Information
AccuRIP™ Ruby Software is the next step in the evolution of the Screen Print industry's best RIP software. Now with built-in printer maintenance features, print Nozzle Checks and clean the print head directly from Ruby. Schedule unattended Nozzle Checks and Head Cleaning keeping your printer ready to do business. Faster processing and greater compatibility with a streamlined workflow keep AccuRIP™ Ruby and your business on top. A product of Freehand Graphics™
Ruby enhanced the Epson and Canon film printing experience…
AccuRIP™ Ruby upgrades and enhances the previous Black Pearl version. Enjoy enhanced accuracy, auto maintenance, faster navigation and more…
Appreciate the ease and reliability of AccuRIP™ Ruby driver-based printing.
ENHANCED ACCURACY
Automatically calibrates the print head with every pass through constant calibration, resulting in higher print quality every time for Canon and Epson Ruby users.
AUTO MAINTENANCE
Prevent clogs, maintain and clean print heads directly within Ruby. Stop searching for hidden printer utilities. Finally one easy to access location. Canon Pixma Pro-100, Epson 1430, and Epson P400 desktop model users easily schedule auto maintenance routines and print head cleaning. VIDEO
ALL BLACK INK™
Freehand's exclusive feature allows you to control every aspect of printer setup and ink control. Print from all ink tanks or just one. Extends the life of dying print heads while avoiding downtime when portions of a print head require maintenance. The All Black Ink™ Licensed Feature is included in AccuRIP™ Ruby for a full year.
Upgrade Black Pearl (and earlier versions) for Ruby and SAVE…
AccuRIP™ Black Pearl or AccuRIP™ 1.01-1.03 users will want to work with an AccuRIP™ Ruby version for Epson or Canon. Mac Catalina and Windows 10 compatible. Previous version users can upgrade at $199.00 for the software alone or take advantage of our upgrade bundles that deliver high quality essential pre-press supplies lowering the software upgrade cost. Ask a support agent for more details and current offers. Click Learn More.
Features and Specifications
Built-in Nozzle Check and Head Cleaning feature
Auto Schedule unattended maintenance
Enhanced Accuracy continuously calibrates the print head during printing
All Black Ink™ controls ink configurations
Droplet Weight Density Test Print feature
Configuration Wizard
Watch Dog automatic printer driver updater
Compact User Interface uses less screen real estate
Memory Minder prevents system memory overload
Mac Catalina and Windows 10 compatible
Improved file processing
WiFi strong auto detects printer IP address
Ethernet and USB ready
Printer Driver Sharing allows multiple computers to print through AccuRIP™
Supported Printers and Operating Systems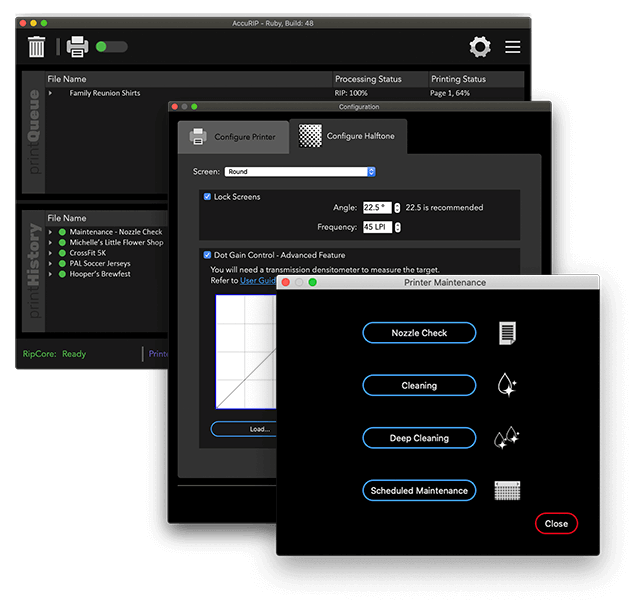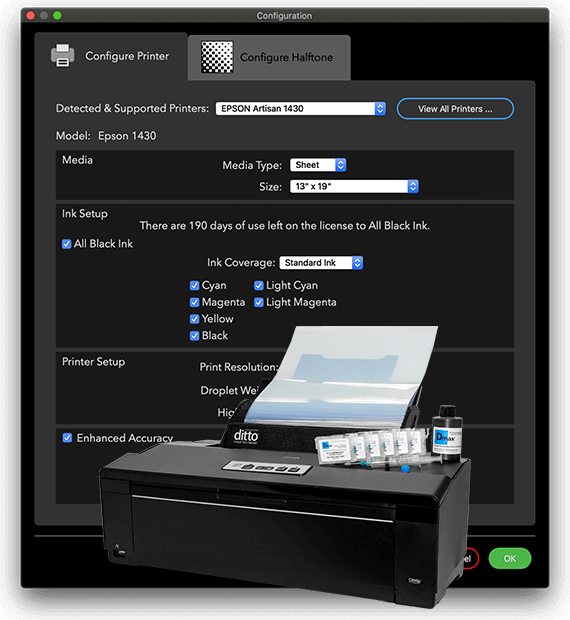 All Black Ink™ is the software feature, Dmax™ is the ink
Freehand™ invented the ability to print from all (or any combo) of ink tanks then formulated Dmax™ black dye to achieve the best UV light blocking results. Exposing screens properly and easily every time. The All Black Ink™ Licensed Feature is included in AccuRIP™ Ruby for a full year.
Easy and effective controls to achieve UV light blocking films for top-quality screen exposure
Natural Corel and Adobe workflows to produce dense black film separations (solid areas, tints and gradients/blends) from full color images
Dense and sharp-edged solid separations you can count on
Quality halftone production – AccuRIP™ delivers what the Epson and Canon printer driver don't have the ability to do
Full control over halftone shape and frequency size
Exclusive Droplet Weight control to quickly dial in perfect film results in one print
WHAT OUR CUSTOMERS ARE SAYING
Freehand was absolutely fantastic, they helped clear up our software conflicts. Fast, knowledgeable, and did I mention fast? Can't ask for better online support A+++ . Review #426

Your tech support at Freehand is truly results driven...I appreciate your team spending time on my issue. Thanks! Review #454

Thank you so much for the login. Such a simple issue that probably could not have been handled so well in any other way. Review #349

Your knowledge of the product, and the remote connection to ultimately resolve the problem and get me up and running was awesome. I really appreciate the guidance. Review #119

Once again, I send you thanks. Your professionalism and efficiency have made my job easier. We will definitely be working together in the future. Review #94

Thank you for responding so quickly. You guys have the best support web site and staff in the business. Review #174

WOW! Works like a champ. Thanks for the help. I really appreciate it. Back to work. Review #198

Great product. Great support and service. I wish we would have started out with AccuRIP instead of two dongle failures and various output issues with our original RIP software purchase. Review #232
Fanatical Team Support
When you take a free trial or purchase any Freehand software/product you enjoy FREE assistance from a team of in-house experts and professional screen printers unequaled in the industry. Since 1995 we've been supporting the software and products we engineer. We're fanatically good at what we do for you.
FREE live agent support
Screen Print and computer experts
Safe/Secure direct Remote Login support
File and workflow assistance/evaluation for Adobe™ and Corel™ users
Full range of self-help videos, articles, and tips available 24/7