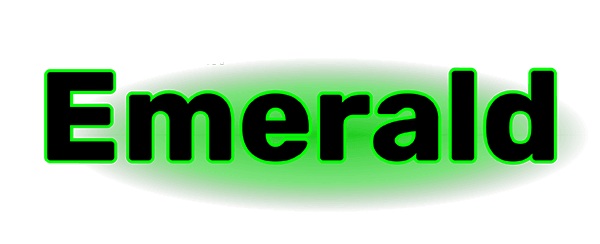 AccuRIP Emerald breaks new ground. Most RIP software has run the same way since the beginning of the postscript revolution back in the 1980's. Originally AccuRIP too was built on those standards. A lot has changed as technology screams forward fast so we changed AccuRIP, for the better.
We took the time to totally reimagine what a RIP could be. Emerald is the first of its kind. It supports EVERY PRINT DEVICE, that's right, Emerald will "image" to any print device, exploding the possibilities of supported printers for the screen print industry.
As printers come and go Emerald will be the first to keep up and support them along with their advancements. With a full list of Certified Printers to start, as screen printers introduce new needs and challenges Emerald will meet those needs, converting Supported Printers to Certified Printers at a rate never seen before.
This means greater flexibility when deciding on a printer that is right for your needs.
Clean Workflow
With more powerful programming "under the hood" you'll spend less time making choices or dealing with endless windows of mind numbing options and more time being productive.
Emerald will remember your last favorite settings, helping you speed through printing each time.
Simple, clean, and efficient is the NEW user interface. Low to no learning curve gets you up and running in seconds.
Tabs vs Menus
Some traditional menus still exist but have been greatly reduced through the use of tabs. Most everything you can do under a menu can now be handled from within a tab. Take a moment to explore all the features under both.
Tabs
Designed to be powerful and easy to navigate. All features and abilities are in one clean window navigated by clicking tabs much like a web browser.
Print
Quality: Set the print and file save quality. Choose between Standard and High Resolution.
Type: Choose between Sheet and Roll media.
Size: Choose a sheet size to match your film dimension or enter the width size for your roll media.
N-UP: When OFF a single separation or image will print as displayed in the preview. When ON Emerald will save film by using the dimension of the printed file "document" divided into the width of the film media "size" to display and print as many separations from a single file in an efficient manner on each film. However the print is displayed in the Proof Positive preview window is how it will print on film.
Be sure the width dimension of your file is less than half the width of the media size set in AccuRIP. Changes to settings will effect the next processed job. Click the Apply button to lock in your new settings.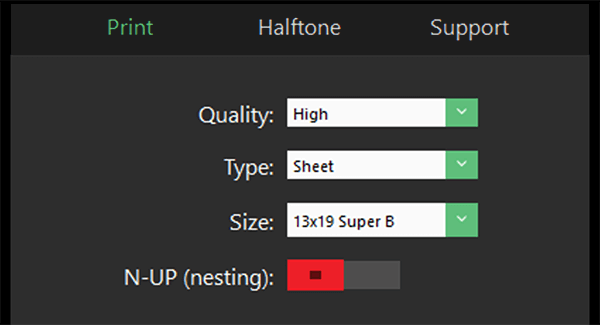 Halftone
These settings only apply/affect prints that require halftones. Prints/separations setup to print as solid, dense spot colors are not affected. When a file has values between 1% and 99% tint those areas will automatically and properly be halftone. Spot color separations set up at 100% tint will print solid black. Emerald will handle things properly as dictated by the print.
Shape: Choose between Round, Ellipse, or traditional Line screening styles.
Screen: By default 45 is the line screen most commonly used by screen printers. Lower numbers print as course halftones, while high numbers produce finer halftones.
To determine the proper mesh count for a line screen preventing moiré use this formula:
Line Screen x 5 = Mesh Count.
Use either the exact mesh count from this formula or the next higher mesh, never lower.
i.e. 45×5=225 (choose a 230 or higher mesh)
Angle: Sets the angle for halftone printing. The recommended default angle is 22.5 degrees for all prints. This is the most screen print friendly angle that prevents moiré.
Use Settings: When ON the settings above override all setting in a graphics program print window regarding halftone. Every file printed through Emerald that requires halftone screening will use these settings. When OFF, Emerald will process the halftone settings from the graphics program.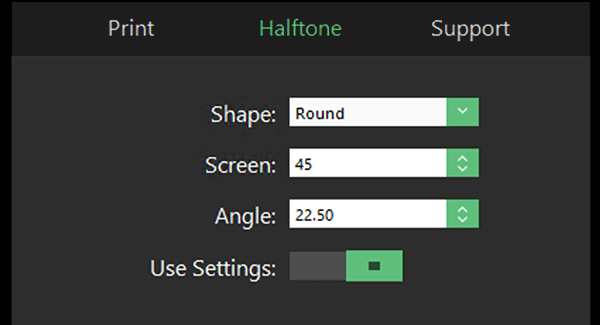 Support
Print Test: Display a TEST File used to test the printer connection and the settings' results.
Build Print Driver: Install the AccuRIP Emerald print driver if one does not already exist.
Web Links:
Support Team…: Submit a Tech Support Ticket to our Support Agents.
Secure Agent Login…: Use only when in contact with a Support Agent.
User Guide…: Links to a webpage with set up instructions and explanations of features and settings
How to Videos…: Links to a webpage with helpful videos.
Features and Workflows Explained…: Links to helpful information regarding the use of Emerald with mainstream graphics programs.
Check for Update…: Links to webpage with information and downloads regarding current and upcoming versions.
Order Supplies…: A quick way to order essential business supplies from Freehand.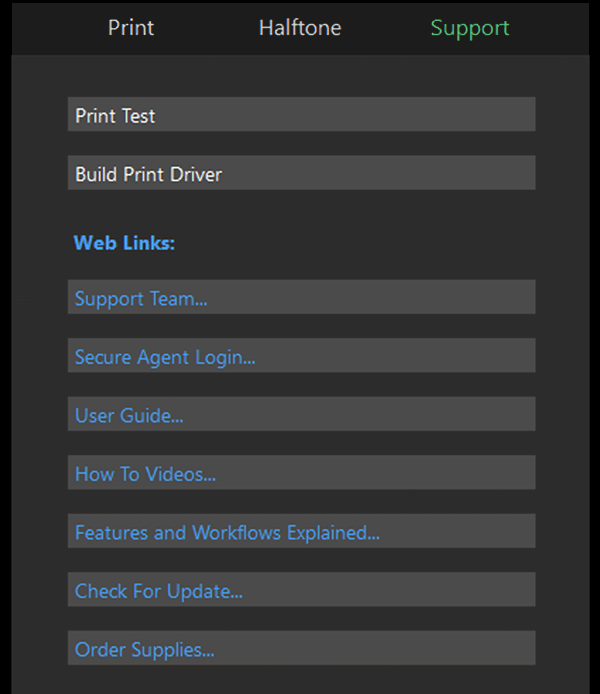 Menus
File: Print A Test Page or Exit the program.
Print Test: Display a TEST File used to test the printer connection and the settings' results.
Exit: Closes the program
Preferences: Change Preference settings
Units: Switches the Roll media values from Metric Millimeters to Imperial Inches.
Themes: Switches Emerald's color theme between Black and Gray.
Printer Override: Forces open the OEM Printer Preferences Window on Certified Printer models when printing. Use this feature only when in need of special results based on media and ink configurations. Consult with Support Agents to learn more.
Support: Displays most of the web links displayed under the Support Tab.
Order Supplies…: A quick way to order essential business supplies from Freehand.
How to Videos…: Links to a webpage with helpful videos.
Support Team…: Submit a Tech Support Ticket to our Support Agents.
Secure Agent Login…: Use only when in contact with a Support Agent.
Reset Default Settings: Return all settings to first install defaults.
Show Quick Start…: Opens the Quick Start Window.
About AccuRIP…: Opens the About AccuRIP Window.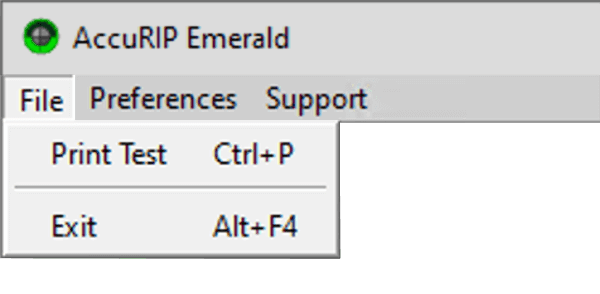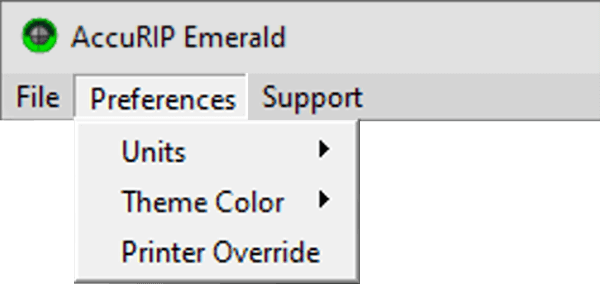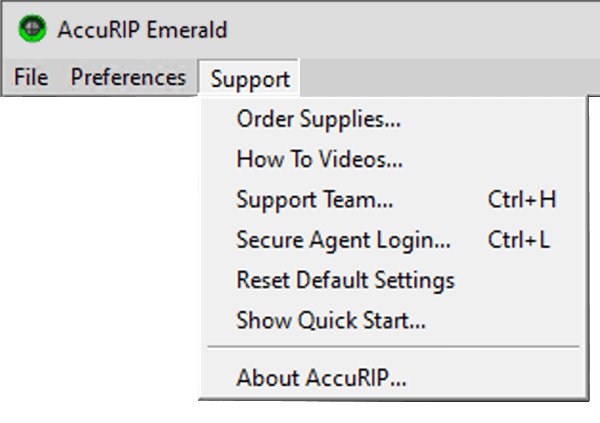 Buttons
Apply and Revert: Becomes available any time a change is made to current settings.
Revert: Before clicking Apply, restores the last saved settings before changes were made.
Apply: Locks in NEW settings, applying them to the next print and every print after that.
Clear: Clears the image displayed in preview. Print data auto clears upon printing. Print data does not auto clear upon saving to file. The next print in queue will be displayed upon clearing the current print.
Save: Saves print data to a file. Depending on your need choose the file format that is right for you.
DCS 2.0 .eps is considered the best and most universal format. A single DCS 2.0 .eps file will contain all the separations in one file, loading them as separate spot colors when working with another RIP or importing the file into a graphics program.
Print: Opens the Select Printer Window. In the Select Printer Window choose your film printing printer model, if available select Mono Black or ABI (All Black Ink).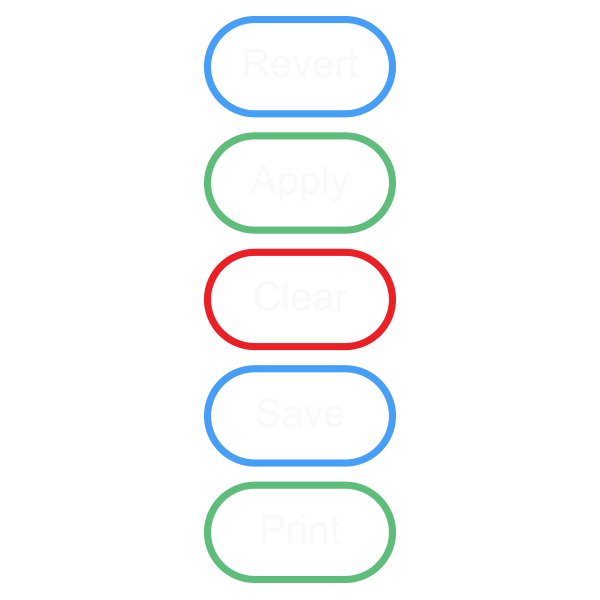 Tools
Pan Tool: An icon of Crossed Arrows, this tool is available when the preview is in a zoom factor greater than 100%. Moves the image data around the Proof Positive Preview window.
Zoom In: An icon of a + Magnifying Glass, click on an area to zoom in and center in the Proof Positive Preview window. This tool is always available.
Zoom Out: An icon of a – Magnifying Glass, click on an area to zoom out and center in the Proof Positive Preview window. This tool is only available when in a zoom factor greater than 100%.
True: Restores the Proof Positive Preview back to 100% "true" dimension displayed in proper orientation on the film media.

Our newest version of AccuRIP version Emerald is a total rebuild with deigns on future enhancements to take full advantage of emerging print and computer technologies.
By streamlining the Graphic User Interface we also automated many features giving the user a great workflow experience.
Features
The first feature is our automatic driver installer that seamlessly installs the new universal single print driver called "AccuRIP Emerald" during the first install. This one driver keeps your print window list clean giving you a single point access to printers. No longer are separate drivers per printer needed, you choose the printer you want at the point of printing. Each time the software installer is run, it will check for an existing driver adding one if needed. You don't have to do a thing.
Emerald removes many of the traditional menus found in other software delivering the most important features you need in one wind with easy to navigate tabs like a website. No hidden windows or menus to access. Clean and easy.
Tabs for every setting keep you productive and in the know. Now that Emerald can print to virtually every printer we made the choices easier, too. All you have to do is set the print quality, style, and size of your print media. These are universal settings for every printer.
Under the Halftone tab configure the halftone pattern to your liking with just 3 easy settings.
Emerald sports N-Up printing also known as nesting. This feature automatically calculates your document dimensions against the film dimensions nesting multiple separations to a single film saving time and money.
Want to control your settings on the fly from your favorite graphics program? You can do that simply by turning off the toggle labeled "Use Settings". Now you are free and responsible to change settings directly from any graphics program print window.
Support is everywhere! Freehand has built its reputation on great software, products, screen print knowledge, and dedicated industry support. Links to our support team are found under each tab along with links to videos, login support, supplies, and more. You never have to leave the software to get everything you need.
All Black Ink has been streamlined, too. Freehand Certifies for the industry the best printers for the job of film printing. When using a Freehand Certified Printer a toggle will appear in the Select Printer Window allowing you to choose between Mono black or ABI (All Black Ink) printing. Nothing complex here, just choose the setting that matches your ink setup and print.
If a printer has been Certified for both Mono and ABI printing the toggle is available to adjust. If a printer has been Certified for just Mono or ABI the toggle appears set to the mode but unavailable to adjust.
Supported printers are now any printer not Certified. Emerald will "image" to almost every printer on the planet, even laser printers. Find a printer that works well for you and tell us about it. If it passes Certification testing we'll add it to the software to further enhance the workflow for that model.
With the ability to Override Certified Printer settings you could customize your own settings if needed.
Processing is dynamically efficient. It uses just the RAM needed at the time of printing then surrenders that memory until the next print.
Workflow
Emerald could not be easier to work with.
Setup Emerald the way you like it then go to work.
The settings in Emerald are applied to each print as it enters into Emerald. Update settings as needed, click Apply then continue sending prints through AccuRIP.
Design and print as normal from your favorite graphics programs such as Adobe Illustrator or CorelDRAW. Create graphics using Spot or Process colors then from the Print window simply choose the "AccuRIP Emerald" printer driver, set the print document dimensions then select the color separations you want to print. It's that easy.
Your separations will appear in Emerald's Proof Positive Preview. Approve the prints then send them to your printer.
With Emerald you can even Save a file using the DCS2.eps format to share that file with others, send them to a direct to screen printer RIP or any other workflow that suites your needs. Separations saved require no additional RIP when printing. Great for Freelancers with clients that don't have a RIP of their own.
You only have to use your graphics programs the way they were designed to operate.
Emerald will print whatever you need.
N-UP, a feature in AccuRIP is an automatic form of nesting images to print from a single multicolor file saving time and money. AccuRIP calculates the media size set in the RIP against the document dimensions printed along with the amount of color separations automatically nesting images in an efficient manner reducing film use, speeding up separation output time, and lowering production cost. You can proof your nested images pre-print in the AccuRIP Proof Positive Preview window.