FIRMWARE

Warning: Accepting and installing Epson firmware updates may cause ink tank chips to no longer be read properly. There are no functional hardware advantages to accepting firmware updates. Do NOT install any firmware updates when using All Black Ink / Dmax refillable ink tanks.
DO NOT peel off the plastic covering INK SEAL on any or all cartridges.
CAUTION pigment film is the wrong type for dye ink.

Learn what to do when using Pigment Inkjet Film (PIJF).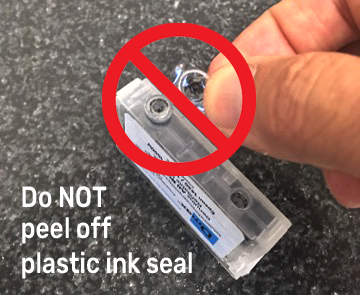 DO NOT THROW AWAY ANY PARTS
White Envelope Contents:
(1) pair of gloves
(1) industrial syringe 12 ml (for Dmax black ink filling)
(1) green tip blunt needle for syringe (attaches for ink fill process)
(1) blue syringe cap (safely stores any ink left in syringe)

In box…
(2) 129ml bottle of Dmax Dye Ink (approximately 2 fills)
(8) refillable empty tanks (cartridges) with clear/white plugs
All Black Ink™ Dmax Dye™ P400 Refillable Ink Master Kit
Instructions for Carts WITH the Priming Syringe.
STEP ONE:
INITIAL FILL
(a) Attach blunt needle to 10ml syringe. and if not already attached the priming adapter to the second 10ml syringe.
(b) Warning, do NOT remove the clear plastic seal from the bottom of the cartridge.
(c) Wearing gloves fill the syringe with 10 ml of Dmax™ Black Dye.
(d) Insert syringe fill needle deep, but not to cartridge bottom. Inject ink slow enough to avoid a spillover. Repeat for all tanks . Keep all filled cartridges upright.
(e) Plug each fill hole with provided rubber "L" shaped plugs. Fit plugs snug enough to prevent dye ink from splashing out during transport or installation.
IMPORTANT REMINDER:
DO NOT PEEL OFF THE PLASTIC INK SEAL (where the ink flows out of cartridge)!
BEFORE INSTALLING THE ALL BLACK INK SYSTEM:
Make sure your printer is clean and operating properly. With the Stock Epson Color inks installed and using the Epson Printer Utility print a Nozzle pattern test page to paper.
INSTALL THE ALL BLACK INK SYSTEM:
Press the ink button on the front of the P400 printer. Lift printer hood. With the print head centered remove all previously installed ink cartridges.
Slots in the print head are labeled with coordinating colors. Insert filled cartridges into the proper slots. Close printer lid (cover), press the ink button get the printer charged and ready.
ACCURIP
Install and setup AccuRIP Ruby™ Software by Freehand if not already done, making sure that the All Black Ink™ Feature is ON allowing all in cartridges to be used during printing.

Continue to STEP TWO…
STEP TWO:
CONFIGURE ACCURIP SETTINGS:
DO NOT make production films until you properly setup AccuRIP Ruby™, and print test prints using the new inks.
(a) Click the Gear icon in Ruby then print a Nozzle Print Test page to paper.
(b) When the printer is ready go to the File Menu then choose Edit Configuration. Match the settings seems below then click OK.
DEFAULT Settings…
All Black Ink Feature: ON
Ink Coverage: Less
Print Resolution: 1440 x 720
Droplet Weight: 12
Hi-Speed: OFF
Enhanced Accuracy: OFF (when ON the feature purposely produces a thin line on the side of the film for constant calibration of the print head)
(c) Load a sheet of film into the printer. From File Menu print Droplet Weight Density Test Print to your film. Follow instructions on printed film. The goal is to dial in the best settings for your ink and film combo. Films should be dry, dark and sharp. Quality films equals success during the screen exposure process.
IMPORTANT FILM INFO:
With a variety of film manufacturers with different manufacturing specifications some will work best, work better than others, or not work well at all. Look for film that works with DYE ink when using the Dmax™ Dye in your Ink Master Kit.
Approved Film Brands: DarkStar™ • Rite Film™
Unapproved Film Brands: Ulano PIJF (Pigment Inkjet Film). This otherwise fine brand is NOT coated for best results with DYE like Dmax Ink. Dye is recommended for printing films for screen exposure. PIJF is for use with pigment ink. Poor results of an ink and film mismatch include slow drying, inconsistent results, a haze around the print that happens as water separates the emulsion from the carrier sheet.
A serial number is required to activate AccuRIP Ruby EP™ software…
Purchasers receive either a serial number (direct web purchase from Freehand), or a redemption code (from a reseller). The redemption code will be emailed to you from your reseller. Freehand does not have this code on file. Enter that code into the "Enter Redemption Code Provided" field, click "Apply" then refresh the page. Your new serial number will appear on the account page in the "My Software Licenses" field.
Enter the serial number when prompted in the Wizard setup, or within the Ruby software click on the License field then click on "Enter Serial Number". 
A code is required to unlock/activate the All Black Ink™ Feature License…
You will receive either an unlock code (direct web purchase), or a redemption code (from a reseller) to use to obtain a unique unlock code.
Reseller Redemption Code:
It will be emailed from your reseller. Freehand will not have a record of this redemption code. Enter that redemption code into the "Enter Redemption Code Provided" field in your My Account, click "Apply" then refresh the page. Your unlock will appear on the My Account page.