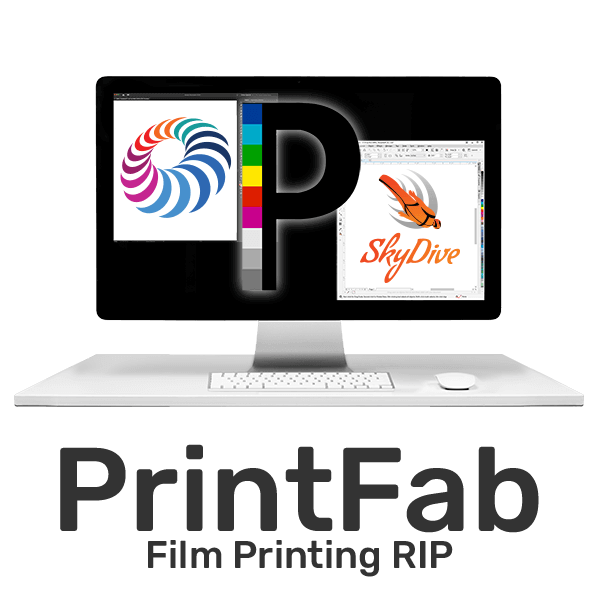 PrintFab RIP
PrintFab
for Windows
$299.00
Download a Free Trial
PrintFab Film Printing RIP
PrintFab is a RIP software solution for film printing that offers features appreciated by screen printers and has a broad range of printer support for Mac and Windows users. With support of the current Mac and Windows operating systems PrintFab also offers All Black Ink (all slot) control for many printers including legacy models such as the popular Epson 1400, 1430 and 1500W. Included with a PrintFab purchase in our web store is Freehand's unmatched free tech support. When you have a question/need you'll work with the skilled computer and screen printing professionals. Freehand's support is the very best thanks to the in-depth knowledge of art, computers, software and screen print pre-press and press production.
Enjoy a free, fully-functional trial to try before you buy as all software sales are final sales. We encourage screen printers to review the specs and printer support of both PrintFab and AccuRIP Emerald, benefit from free trials and select the best solution for your needs.
PrintFab supports all these printer models and more.
Epson:
Artisan 1430/50,  SC-P400/600/800, Stylus Photo 1400/1410/1500, WorkForce WF-1100/7210/7710/7720, XP-15000, SC-T3170/3170X/T3270, L1300/1800,
ET-7700/7750/16500/14000, Stylus Pro 3880/4800/4880/7900
Canon:
Pixma Pro-100/100s, iX 6820
Click to Watch our Installation Guides
How To Print with PrintFab and our Recommended Settings
Printing with PrintFab is straightforward. Simply choose the driver in the print window as you would any printer. Solid separations will print as expected. If you wish to print halftones open the print settings window to control your halftone settings. Watch the video for more detail.
General Recommended Epson Settings:
1440 DPI
220% Ink Saturation
40 Screen LPI
Halftone Screen Mode: Multi Black (All Black Ink™) or Single Black
25 Screen Angle
Round Screen Shape (Halftone Shape)
Medium Drop Size 2
General Recommended Canon Settings:
2400 or 9600 DPI
Paper: Transparent CF102
220% Ink Saturation
40 Screen LPI
Halftone Screen Mode: Multi Black (All Black Ink™)
25 Screen Angle
Round Screen Shape (Halftone Shape)
Medium Drop Size 2
Specific Recommended Settings for Epson and Canon Printers
Click your printer to see recommended settings
How to Activate Your PrintFab License
All users should have an active or expired PrintFab trial installed before activation.
Following purchase navigate to your MY ACCOUNT, under the "My Software Licenses" dropdown locate, highlight, and copy the PrintFab serial number.
Next, go to this page of PrintFab ZEDOnet's Website and paste the serial number into the "License order code" field. Properly fill out the rest of the form, and click "Send". ZEDOnet will email you a license Keyfile used to activate the software.
On Windows: Open PrintFab, in the lower right corner of the PrintFab window Click "About/License". Then click "Select license Keyfile…". Now locate and select your downloaded license Keyfile in the file browser, and click "Open". Click "OK" in the following windows.
On Mac: Locate your downloaded license Keyfile in Finder then double click it. In the PrintFab windows that appear click "Yes", enter your password, click "OK", then click "OK" again.