AccuRIP™ Ruby EP  including All Black Ink (Feature), Auto Maintenance and Cleaning, Constant Calibration and many more features are described in greater detail.
Description

AccuRIP™ Ruby Software for Epson printers drives the entire film output process including critical ink lay down control unachievable without an industry RIP. Achieve what a screen print artist needs in film production in order to produce accurate, dark and sharp films (transparencies) on time, in budget, and without costly waste. No unnecessary steps, slowdowns, or difficult workflows. Printing film from an Epson inkjet demands the efficient AccuRIP™ workflow. AccuRIP™ Ruby is the newest advancement replacing the previous Black Pearl version.
The Wizard auto setup quickly connects AccuRIP™ Ruby and your Printer. Select the AccuRIP™ Driver to print a separation to film for a simple workflow. Film is essential to your success, and when done right it means screen exposure and print production are off to an incredible start.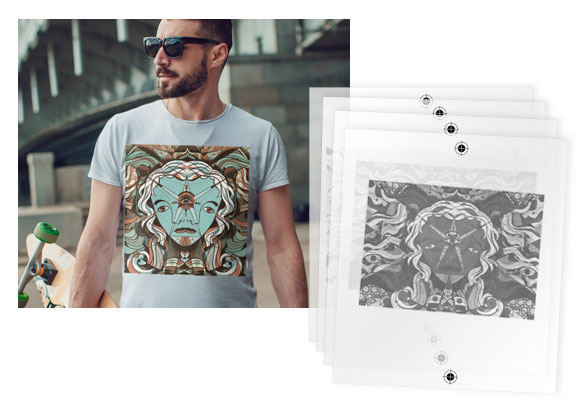 AccuRIP™ Ruby released July 25, 2019.
Features and Benefits
AccuRIP™ Ruby has the important ability to auto-detect and connect to your supported Epson printer on your network. Options in the Configuration Menu allow you to dial in your needs including halftone size and shape. Set it and forget it, or edit at will. Critical ink lay down control is provided for the perfect amount of ink sprayed during output.
AccuRIP™ Ruby also delivers All Black Ink™ (control of every print slot) so you can spray from any/all slots. The All Black Ink™ yearlong optional Feature License is included for year one (Photo Black slot only printing does not require the Feature). FREE year Licenses are so easy to get. Freehand never wants you to pay a License FEE. Loyalty Rewards equals FREE. Simply purchase a small amount of a consumable/product such as Freehand™ Dmax™ Ink, or other Freehand inkjet supplies worth $175.00 or more, or purchase the License separately. Screen printers spend way more on inkjet pre-press supplies. It's good business.
Partial Features List:
• Auto Printer Detection and Connection
• Auto Maintenance (Cleaning and Scheduling) for the 1430, P400 and Pixma Pro-100 (NEW)
• Print Setting IQ remembers your last configured settings
• WiFi strong to take advantage of WiFi convenience
• WatchDog Doctor detects then adds drivers to OS upon launch
• Print to any supported USB Epson printer in your network
• Enhanced accuracy through constant calibration (NEW)
• Wizard On Call for first time setup or reinstallation
• OS advancement READY with no cost (NEW)
• Faster navigation through redesigned User Interface (NEW)
• Two simple tabs to configure printer and halftone settings
• All Black Ink Feature™ as a License (NEW)
• FREE Live Agent Tech Support and Remote Login
Operating System Compatibility / Printer Support


Windows 10 • Windows 8.1 (32-bit and 64-bit) •  Apple: Catalina • Mojave • High Sierra • Sierra • El Cap (10.11.6) (64-bit)
AccuRIP™ Ruby supports over 4 dozen Epson desktop/wide format printers for producing film (transparencies). This version does NOT support the Canon. Select the CP version to operate with a supported Canon.
Other
What is a RIP? Do I really need one? A RIP is not just for halftone output to film, it's for all graphics file output needs including popular solid spot colors. The communication gap between your art file (PostScript Graphic) and your Printer is bridged by AccuRIP™. Since the quality of the output is critical to screen exposure and ultimately success on-press, the RIP offers resolution, halftone type and size options and the ability to adjust ink lay down for your film and ink combo. Users trying to manage their business without a RIP with the thought of saving money ultimately suffer with poorer quality than the competition and wasted film, ink, time and money. A RIP will pay for itself in a very short amount of time. If you're serious about screen printing put your focus on pre-press as well as print production. They go hand in hand.
If you think you're not tech savvy and can't handle a RIP, AccuRIP™ is your solution. With an Auto Setup Wizard that detects and connects to your Printer and a driver you select in the print window of your graphics program (i.e Adobe, Corel) this will be the easiest software that's hard at work for you.