AccuRIP™ Ruby

Purchase the Canon Pixma Pro-100 printer hardware separately from a Canon reseller. Freehand does not sell printers.
INTRODUCING a complete Canon Pixma Pro-100 film output experience that starts with AccuRIP™ Ruby (Canon) Software. The Pro-100 printer is the newest supported printer selected by Freehand, because film production yields are high, print quality is high, yet production costs are very low. No unnecessary steps, slowdowns, or difficult workflows.
Your $699.00 Bundle purchase includes Ruby Software for Canon and an exclusive Refillable tank solution complete with Freehand's very own black dye formulation for high density films. The All Black Ink™ feature license is included for a full year on all slot (or any combo) of ink spraying. AccuRIP™ Ruby (Canon) and the Pro-100 Refill Ink starter kit delivers a reliable turn-key solution. This bundle saves you $195.
ALREADY an AccuRIP Black Pearl or earlier version user? Save more by EXCHANGING Black Pearl for Ruby.
AccuRIP™ Ruby released March 12, 2019.
AccuRIP™ Ruby Features and Benefits
AccuRIP™ Ruby (CANON) has all the features of Freehand's AccuRIP™ Black Pearl version And more, and has been engineered for the future of film production where refillable ink tank solutions take center stage. The supported printer list will grow, of course, but the Canon Pixma Pro-100 bubble jet printer offers advantages over the Epson desktop line of printers especially when it comes to uninterrupted production and head technology.
Options in the Configuration Menu allow you to dial in your needs including halftone size and shape. Set it and forget it, or edit at will. AccuRIP™ Ruby delivers the ability to print using Freehand's All Black Ink™ (all slots spray during printing, or any slot configuration). Having Freehand's Refillable Tank solution also means you never have to pay separately for this powerful and production efficient feature. It's simple, your ink kit purchase equals an unlock code for this most wanted ability for a full year. Continue to use All Black Ink year after year without interruption thanks to the unlock codes provided when purchasing Freehand's Pixma Pro-100 Dmax Dye in bottles for your refillable tanks.
Partial AccuRIP™ Ruby Features List:
• Auto Printer Detection and Connection
• Print Setting IQ remembers your last configured settings
• All Black Ink™ feature one-year license
• WiFi strong to take advantage of WiFi convenience
• WatchDog Doctor detects then adds drivers to OS upon launch
• Wizard On Call for first time setup or reinstallation
• Two simple tabs to configure printer and halftone settings
• FREE Live Agent Tech Support and Remote Login
Operating System Compatibility / Printer Support

Windows 10 • Windows 8.1 (32-bit and 64-bit) • Apple: Catalina • Mojave • High Sierra • Sierra • El Cap (10.11.6) (64-bit)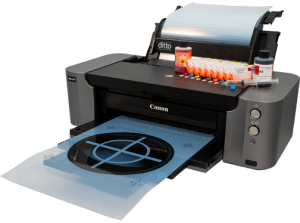 AccuRIP™ Ruby (Canon) supports the Canon Pixma Pro-100.
*Printer not included. Image shown with optional Ditto Inkjet Film Feeder™ available in the online shop.
Other
What is a RIP? Do I really need one? A RIP is not just for halftone output to film, it's for all graphics file output needs including popular solid spot colors. The communication gap between your art file (PostScript Graphic) and the Canon bubble jet is bridged by AccuRIP™ Ruby. Since the quality of the output is critical to screen exposure and ultimately success on-press, the RIP offers resolution, halftone type and size options and the ability to adjust ink lay down for your film and ink combo. Users trying to manage their business without a RIP with the thought of saving money ultimately suffer with poorer quality than the competition and wasted film, ink, time and money. A RIP will pay for itself in a very short amount of time. If you're serious about screen printing put your focus on pre-press as well as print production. They go hand in hand.
If you think you're not tech savvy and can't handle a RIP, AccuRIP™ Ruby is your solution. With an Auto Setup Wizard that detects and connects to your Canon Printer and a driver you select in the print window of your graphics program (i.e Adobe, Corel) this will be the easiest software that's hard at work for you.