NEVER EVER PAY for the Feature License. Freehand™ Loyalty Rewards easily delivers it for FREE!
What does the Feature do?
The All Black Ink™ Feature delivers to screen printers the control to convert a stock color inkjet printer into a dedicated industry film printer. Install Dmax Black Dye Ink™ into all ink tanks then you can control exactly how you'd like to use those inks. Printing from all nozzles reduces print head clogs. All Black Ink™ saves money. Use 100% of the ink purchased for the business purpose of printing film. No more wasting money on color ink that clogs or needs replacement, ink that is never used when printing films.
With greater control than any manufacturer printer driver could deliver All Black Ink™ control delivers better density while using less ink. With a "one time" print of Freehand's exclusive Droplet Weight Density Test Print from AccuRIP™ or Spot Process™ Separation Studio™ 4 dial in your entire screen exposing process while using less ink. Get it right the first time, every time.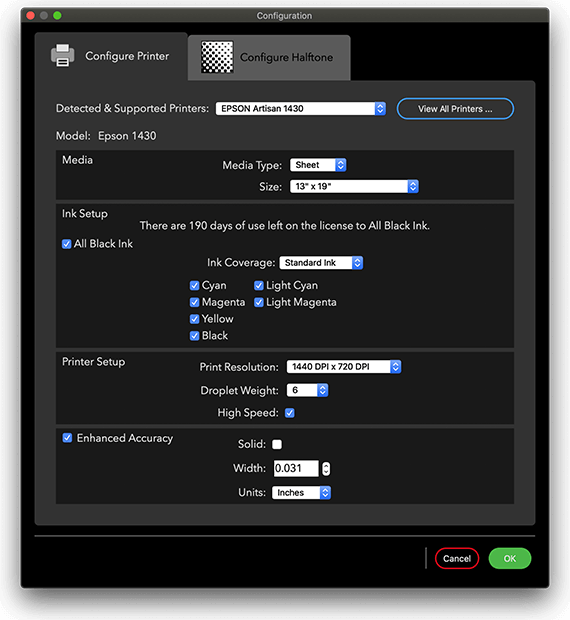 How do I get the Feature FREE?
Freehand delivers with all Advanced and Perpetual licensed software (non Premium licenses) of Spot Process™ Separation Studio ™ 4 and AccuRIP™ Ruby a first year FREE All Black Ink™ (ABI) license. This FREE license is granted to all users FREE for the first year of use. The FREE year of use ends on the anniversary of the software license activation.
How do I continue use?
It's easy, with Freehand's Rewards Points system for every $2 spent essential supplies and software receive 1 reward point. Accrue 175 points by purchasing $350.00 of supplies in a single year then your MY ACCOUNT is automatically rewarded a FREE ABI license. Current Rewards Points are displayed in your MY ACCOUNT, log in to check. This is in addition to the "first full year" license that comes FREE with every new or upgrade AccuRIP™ Ruby license.
If you have already achieved 175 points you will see a FREE ABI license serial number waiting.
Don't have enough points yet? Purchase some essential supplies today to reach the goal of 175 points. Then visit your MY ACCOUNT after checkout.
Freehand rewards loyal consumable buying clients while always remaining dedicated to the success of all of our users. We'll keep making great software and products, you keep using our great products. Together we help each other profit and grow.
You trust Freehand by using its software daily to successfully drive your business' pre-press department, you can also trust us to deliver high quality film printing supplies at the right prices too. Freehand has been delivering quality service and supplies since 1983. A solid company you can trust to be there for you.
Don't want to buy even just a little of Freehand's quality supplies…?
That's ok too. Unlock this powerful optional feature by purchasing an annual license above.
Extends the Life of a Printer
By controlling how your printer uses inks you can remain productive even when the print head needs maintenance. All Black Ink™ delivers the flexibility and economy you want and need when running a production business.
An inkjet head will break down over time. When portions of the print head no longer clean properly or break down completely most people will discard the printer at that point, enduring added unnecessary business cost. You can use the All Black Ink™ feature to BYPASS those portions of the print head (nozzles) eliminating streaking and continue to produce clean sharp films.