NEVER EVER PAY for the Feature License. Freehand™ Loyalty Rewards easily delivers it for FREE!
What does the Feature do?
The All Black Ink™ Feature delivers to screen printers the control to convert a stock color inkjet printer into a dedicated industry film printer. Install Dmax Black Dye Ink™ into all ink tanks then you can control exactly how you'd like to use those inks. Printing from all nozzles reduces print head clogs. All Black Ink™ saves money. Use 100% of the ink purchased for the business purpose of printing film. No more wasting money on color ink that clogs or needs replacement, ink that is never used when printing films.
With greater control than any manufacturer printer driver could deliver All Black Ink™ control delivers better density while using less ink. With a "one time" print of Freehand's exclusive Droplet Weight Density Test Print from AccuRIP™ or Spot Process™ Separation Studio™ 4 dial in your entire screen exposing process while using less ink. Get it right the first time, every time.
How do I get the Feature FREE?
Freehand delivers with all Advanced and Perpetual licensed software (non Premium licenses) of Spot Process™ Separation Studio ™ 4 and AccuRIP™ Ruby a first year FREE All Black Ink™ (ABI) license. This FREE license is granted to all users FREE for the first year of use. The FREE year of use ends on the anniversary of the software license activation.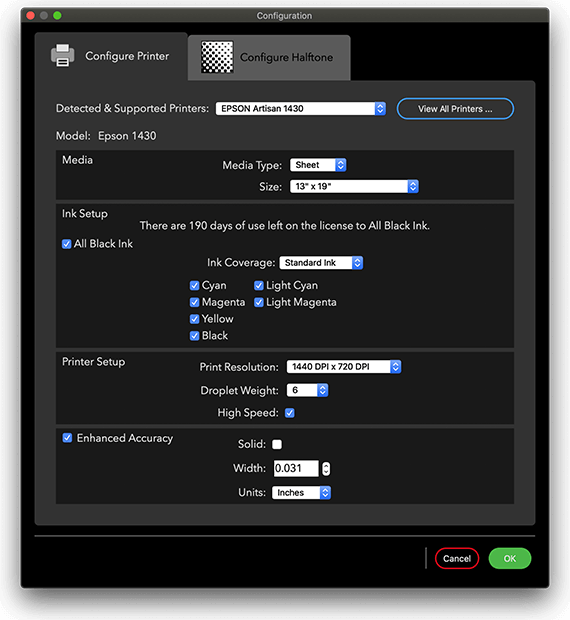 Extends the Life of a Printer
By controlling how your printer uses inks you can remain productive even when the print head needs maintenance. All Black Ink™ delivers the flexibility and economy you want and need when running a production business.
An inkjet head will break down over time. When portions of the print head no longer clean properly or break down completely most people will discard the printer at that point, enduring added unnecessary business cost. You can use the All Black Ink™ feature to BYPASS those portions of the print head (nozzles) eliminating streaking and continue to produce clean sharp films.
Don't use the All Black Ink™ Feature?
If you do not wish to extend the life of your printer and save money on ink purchases by taking advantage of the All Black Ink Feature you can disable the ABI Renewal Window in AccuRIP™ by checking the "Don't Show Again" box.
You will be free to continue printing with only the photo black slot.