ACCURIP BLACK PEARL™
AccuRIP Black Pearl™
Film Printing from Epson Inkjets Made Easy.
Easy to install, easy to configure, easy to print with every day are the reasons why AccuRIP Black Pearl™ software is THE trusted industry standard for printing high-quality separations to film. The Auto Wizard makes it easy to be setup and configured in just minutes. Printing accurate and dense separations for the critical screen exposure step is as easy as selecting the AccuRIP Black Pearl printer driver within the print window of your favorite mainstream graphic design programs such as Adobe® and Corel®.
(Epson -or- Canon)
The AccuRIP you use depends on the printer and brand…
AccuRIP Ruby: Canon Pixma Pro-100
AccuRIP Black Pearl: Over 4 dozen Epson printers supported (scroll to view list)
AccuRIP SE: Epson P-800 Screen Print Edition (sold through Epson Resellers only)
You're currently on the AccuRIP Black Pearl version page.
Easily print proper UV light blocking films with AccuRIP Black Pearl™
AccuRIP output including critical ink lay down (not possible from an inkjet's driver) is all about achieving accurate and dense films without waste. The exclusive All Black Ink™ feature offers multiple black ink tank spraying. A "no watermark" trial means production ready films finance this important screen print software.
Supported Printers and Operating Systems

Achieve your goal of accurate films!
easy and effective controls to achieve UV light blocking films for top-quality screen exposure
natural Corel and Adobe workflows to produce black films (solid areas, tints and gradients/blends) from full color images
dense and sharp-edged solid separations you can count on
quality halftone production – what the printer drivers in Epson and Canon don't have the ability to do
full control over halftone shape and frequency size
exclusive Droplet Weight control takes the guess work out of ink droplet selection.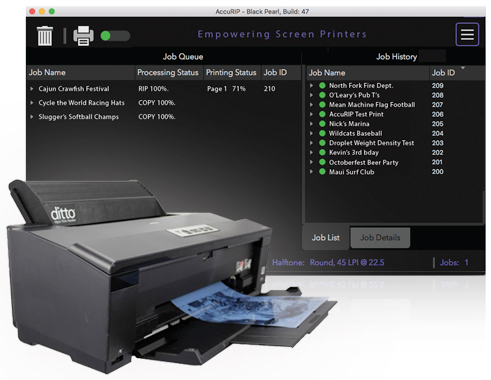 WHAT OUR CUSTOMERS ARE SAYING
Freehand was absolutely fantastic, they helped clear up our software conflicts. Fast, knowledgeable, and did I mention fast? Can't ask for better online support A+++ . Review #426

Your tech support at Freehand is truly results driven...I appreciate your team spending time on my issue. Thanks! Review #454

Thank you so much for the login. Such a simple issue that probably could not have been handled so well in any other way. Review #349

Your knowledge of the product, and the remote connection to ultimately resolve the problem and get me up and running was awesome. I really appreciate the guidance. Review #119

Once again, I send you thanks. Your professionalism and efficiency have made my job easier. We will definitely be working together in the future. Review #94

Thank you for responding so quickly. You guys have the best support web site and staff in the business. Review #174

WOW! Works like a champ. Thanks for the help. I really appreciate it. Back to work. Review #198

Great product. Great support and service. I wish we would have started out with AccuRIP instead of two dongle failures and various output issues with our original RIP software purchase. Review #232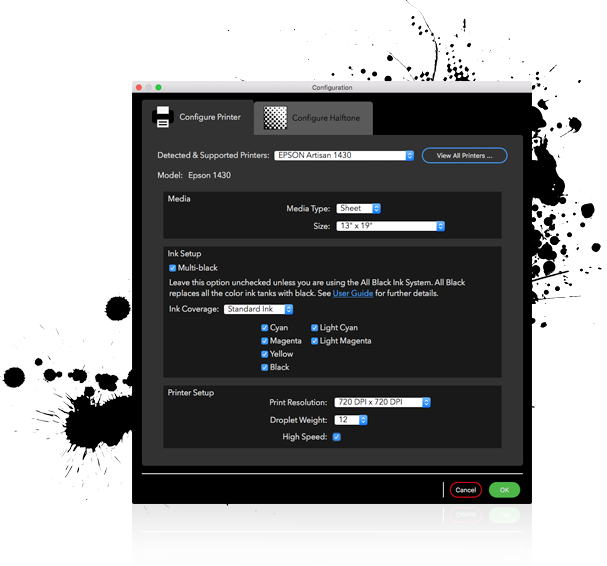 Save time, money and ink!
We first engineered AccuRIP more than a decade ago to address on-going industry concerns about film output using other solutions. AccuRIP quickly became the top industry RIP because its easy to use, delivers the cleanest and densest films, supports an expanding printer line, offers the All Black Ink License option, and saves users time and money.
AccuRIP literally reads your art files instantly and translates them into solid areas, tints, and gradients/blends just as you designed it. It also helps you use the least amount of ink while achieving the best results with built in controls.
Fanatical Team Support
When you take a free trial or purchase any Freehand software/product you enjoy FREE assistance from a team of in-house experts and professional screen printers unequalled in the industry. Since 1995 we've been supporting the software and products we engineer. We're fanatical and that's good news for you.
Full range of self-help videos, articles and tips
One-on-one support
FREE live agent online support during business hours
Remote connections to help users directly from their computer
File evaluation and suggestions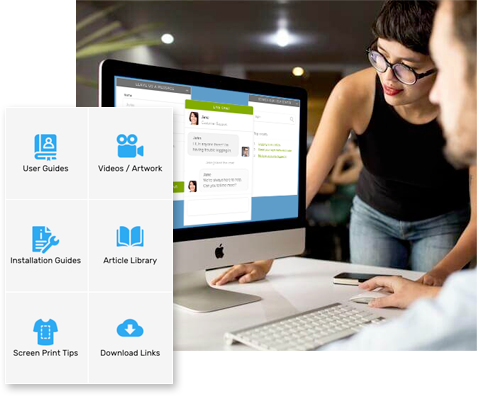 AccuRIP Black Pearl™
Drives the entire film output process (halftones and/or solids) not achievable without a RIP.
• AccuRIP Black Pearl includes critical ink lay down control.
(dozens of supported inkjet printers)
Available on this site and through Freehand Authorized Resellers
• AccuRIP SE has a single dialed in setting
(P800 exclusively) Available through Epson America Dealers
  AccuRIP Black Pearl Supported Printer Models
AccuRIP Black Pearl™
Desktop Inkjet Printer Models
Epson Artisan 1430
Epson Artisan 50
Epson Sure Color P400/P405
Epson Stylus Photo 1400/1410/1390/1500W
Epson Stylus Photo R1800/R1900
Epson Stylus Photo R280/R285/R290
Epson Stylus Photo R2000/R2400/R3000
Epson WorkForce 1100/1110
Epson ET 2500/2550
Epson L355
Epson L1300/L1800
AccuRIP Black Pearl™
Wide Format/Roll Inkjet Printer Models
Epson Sure Color T3000/T5000/T7000
Epson SureColor T3200/5200/7200
Epson SureColor T3270/5270/7270
Epson Sure Color P5000 (Standard and Commercial)
Epson Stylus Pro 3800/3880
Epson Stylus Pro 4000/4450/4800/4880/4900
Epson Stylus Pro 7000/7600/7700/7800
Epson Stylus Pro 7880/7890/7900
Epson Stylus Pro 9450/9600/9700/9800
Epson Stylus Pro 9880/9890/9900
Epson Stylus Pro 10600/11880
  AccuRIP Black Pearl SE and AccuRIP Ruby Supported Printer Models
AccuRIP SE™ Version*
P800 Screen Print Edition (exclusive to SE)
T3270 Screen Print Edition
*SE is an Epson hardware/software/ consumable package bundle available exclusively through Epson America® Authorized Resellers of AccuRIP SE, and is supported by Epson and its Resellers.
All Black Ink™ (Multi-black) and the Droplet Weight Density Test Print features are NOT in SE as it is a turnkey solution for Epson consumables.
AccuRIP Ruby™
Canon Pixma Pro-100 (desktop sheet printer)
Software available in a bundle with Freehand's Canon Pixma Pro-100 Dmax Ink Starter Kit. The refillable ink system transforms this printer into a film production solution for thanks to the high-density results of Freehand's formulated ink. No trial available due to the requirement of Dmax ink to achieve outstanding results.
All Black Ink™ (Multi-black one year license) and the Droplet Weight Density Test Print features included.
Watch Videos • View Playlists • Subscribe to Channel