Whether making T-Shirts for commercial purposes and selling them or printing one single shirt for yourself, T-Shirt Printing is an art form that has been around for decades. The most popular type of T-Shirt Printing is Screen Printing, however, there are a variety of methods to use for T-Shirt Printing. The criteria for choosing which method to use depends on the following factors: (Heat Press Fun)
Type of fabric
Mass production or single
Cost
Choosing the method for T-Shirt Printing will depend heavily on the reason for making the shirt. Not all the below methods are compatible with every type of fabric, so find out which method works for the fabric being used first. Another reason to choose a T-Shirt Printing method is the upfront investment going into it, with some methods more expensive than others. Also, these methods have different efficiencies, meaning certain methods aren't meant for mass production.
Below are the different methods of T-Shirt Printing.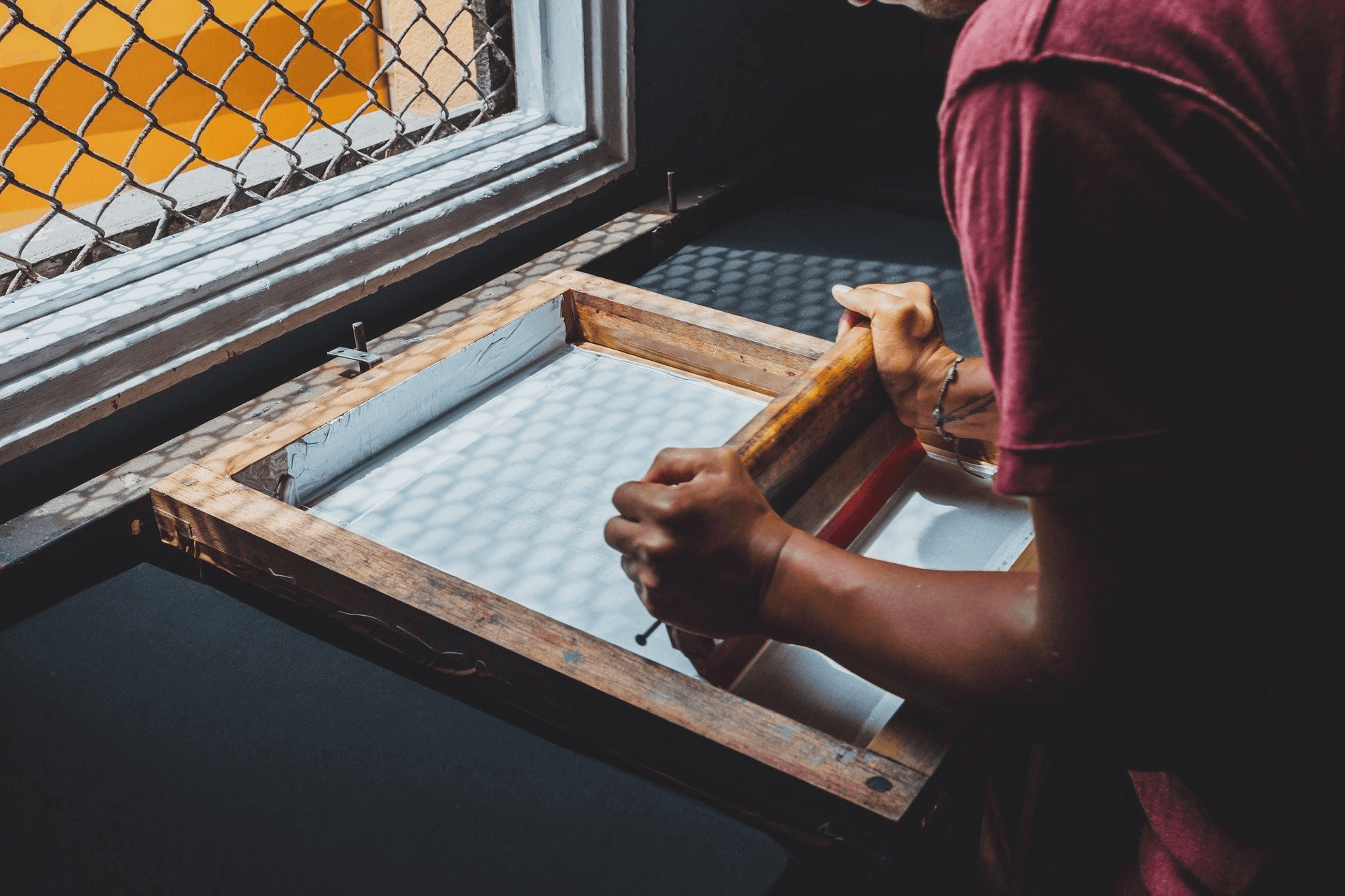 Also known as silkscreen printing, screen printing is a favored method for T-Shirt professionals. Starting out with your design, the colors are separated from it into individual colors and inks are applied to the design through mesh screens, usually made of nylon. A waterproof emulsion will block the negative space in the design allowing ink to flow through to the garment.
Heat Transfer Vinyl (HTV)
Heat transfer vinyl, or HTV, uses a specialized heat press to print T-Shirts. A heat press is applied to the garment to permanently transfer the design to the T-Shirt. This method would not work on certain fabrics that can't take high heat levels. It's also better suited for smaller quantity printing.
Dye-Sublimation printing, or all-over-printing, is used to transfer large designs to T-Shirts. A special dye is used that turns ink into gas, skipping the liquid phase, with the use of heat and pressure (Wikipedia). Unlimited colors can be used for this method, unlike screen printing. It's important to note that only T-Shirts with light fabrics can be used in this method of T-Shirt printing, polyester being the preferred fabric. Dye-Sublimation directly dyes the fabric instead of printing on top of the fabric, making the colors more vibrant and ensuring it won't fade.
Direct to garment printing prints T-Shirts similarly to how a paper printer would, except fabric is being used instead of paper. A DTG printer and ink is needed for this method of T-Shirt printing, which can be costly if only using it for personal use. How it works is simply create your T-Shirt design on the computer then print it out using the DTG printer. Direct to garment printing can print complicated designs with multiple colors and it's quick, making it ideal for mass production.
Heat press printing is great for beginner T-Shirt printers because it's a simple method that yields high quality results with low cost involved. It's a slower method than the others and suitable for smaller quantities of T-Shirts. Using heat press printing, your design is printed on transfer paper and it's replicated on the shirt by using heat and pressure. When done, remove the transfer paper and clean off the extra dye.
We've come a long way with T-Shirt printing and there are many methods to choose from to arrive at the desired result. As mentioned above, the method chosen depends on the reason for making the garment and as such, there are pros and cons to each method.
Spot Process™ Separation Studio™ NXT is the Official color separation software for the screen print industry. Now with 2 more engines to add to the software that revolutionized sim process (Spot Process™), users can auto color separate Vector PDF files with ease and control, and output Spot Process™ and Vector to Raster separations. Supports direct printing using AccuRIP™ or any other RIP software.