Spot Process Separation Studio 4

With Premium/Advanced License options now available get on board with Spot Process Separation Studio 4 using this highly advanced and expanded release of the industry color separation for screen printers automated software first released as Spot Process back in 1995. Now with two distinct color separation engines to manage the broad range of files screen printers work with every day, and the addition of direct to inkjet film output with the print window features a screen printer needs, this outstanding Separation Studio 4 software ends so many of the struggles facing artists during file preparation, separation and output to film.
As a focused software with features specific to the needs of artists, producing work for screen print production has never been faster or easier. Separation Studio 4 was created for raster, vector and download art service images. Spot Process Sep Studio 4 (SPSS4) fits easily into your Corel and Adobe design world, built to bridge those industry gaps making easy work of complicated separation and output processes.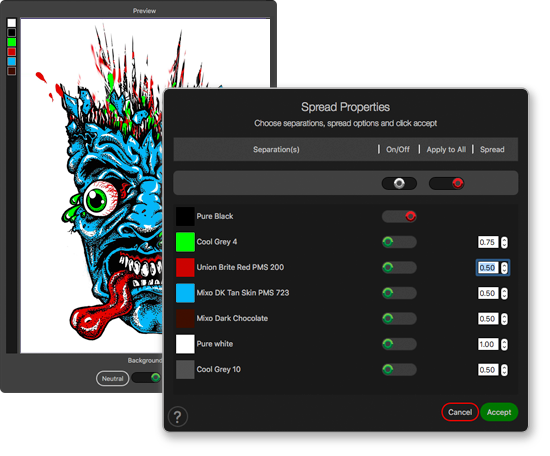 Spot Process Sep Studio 4™ released November 4, 2018 • replaces the previous version Sep Studio (3.0)
Compatible with dozens of printers. With the value of Sep Studio 4 for your business, it makes so much sense to get a compatible printer and use Sep Studio 4 then to not use one of the best screen print software the industry has ever seen.
Separation Studio Features and Benefits
Spot Process Separation Studio 4™ is featured packed, yet so easy to use for artists of every level. The value of Separation Studio 4 software is not only in what it is engineered to do, but how easy it is for the user to accomplish tasks quickly and accurately. Freehand is proud of the SPSS4 intuitive user interface that delivers screen print specific features:
Vector PDF Color Separation Engine:
• separates Adobe and Corel .pdf files
• one-click underbase with choke adjustments
• fast spread controls
• auto converts process to spot upon opening
• create textile and press ink custom libraries
• drag and drop merge separations
• power merge separations to any size press with PressFit™
• on-screen color composite with Proof Positive™ technology by Freehand
• print color proof
• film or ink view of separations
• print vector PDF seps directly from Sep Studio 4
Sim Process Color Separation Engine:
• separates RGB TIF images upon opening of file
• full support for background transparency
• auto create underbase
• generate black and brown; enhance orange
• merge separations
• create textile and press ink custom libraries
• auto and slider color adjust control
• on-screen color composite with Proof Positive™ technology by Freehand
• print color proof
• film or ink view of separations
• auto saves separation as .psd
• print sim process seps directly from Sep Studio 4 to film
Print Commander Film Printing Engine:
• auto detects supported printers
• film saving auto nesting with controls
• robust screen print registration marks and labels
• control halftone shape, angle and size
• produce various halftone sizes and shapes on film separations
• print size control
BONUS: The All Black Ink™ Feature (previously called Multi-black) once only in AccuRIP is now included in the Print Commander of SPSS4 for a full year FREE for any version purchase (Premium or Advanced) – a $175 value!
Operating System Compatibility / Printer Support


Windows 7 through 10 (64 bit)  •  Apple El Cap through Catalina (64 bit)
Spot Process Separation Studio 4™ color separates graphic images created in Adobe, Corel and other mainstream graphics software.
File Size: separation, image preview and file output processing speed is related to the file size and resolution and cpu processor. SPSS4 provides default settings to maximize processing speed while maintaining the quality that meets screen print industry standards.
Supported Printers
With the first direct to inkjet print feature in the industry, Separation Studio 4 will color separate and print to film through supported inkjet devices separated files in Separation Studio 4. An outside RIP software is not required for Sep Studio 4 separations. We suggest users work with AccuRIP Software™ to have output control of files not separated through SPSS4.
Other
Separation Studio 4 software is a product you License for Use. With Two License Options for Spot Process Sep Studio 4™ you'll want to pick what's best for you. There are two options for new users and two for existing users of earlier SPSS versions.
Did you know? Separation Studio 4 software is intellectual property providing incredible value with every click. With a purchase the License holder is provided specific Terms of Use (End User License Agreement / EULA).
Premium: $199/yr
Dynamic features, free updates and upgrades.
Separation Studio is designed for users that expect to progress their hardware, OS, or software. Always work with the latest technology advancements.
Advanced: $489/1x fee
Fixed features, fixed cost, OS specific and free updates.
For users that progress more slowly with hardware, Operating Systems, and software, and generally don't opt for advancements as they are released. Your upfront, one time fee does not provide no cost software upgrades.
License Info for Premium and Advanced selections:
Change your License Plan with the assistance of our sales team. Chat or email us. There are great benefits to both License options and we have the info to help you make an informed decision. The Term of the License is different under each option, as is the availability of features. Each License has a price reflective of the use and value to the software user. Each fall under Freehand's software license guidelines governing the use and distribution of the software.
All Sep Studio 4 users are instant VIPs. Shop Freehand's online store and you'll automatically get the lowest price for the product. No coupon codes needed!
All Software orders are final sale.