Spot Process Separation Studio 4™
The #1 color separation tool for screen printers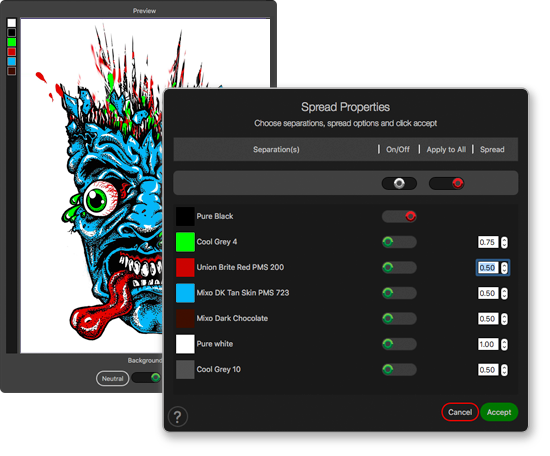 Art prep, color separation and
film output is a snap
Don't waste time fixing client supplied, downloaded, or improperly color managed artwork. Experience the power of color separation automation with intelligence. The new Spot Process Separation Studio 4™ has 80% more tools and features than the previous version. Now with two distinct separation engines and Sep Studio's own Print Commander – all art is expertly separated and printed to film with control and confidence.
Windows 7 through Windows 10  •  Apple El Capitan through Mojave

Wishes granted…
Users participate in development by submitting their wishes for Sep Studio 4™ software. And, we have granted many of them already. The software is updated! Keep them coming! Check out the Wishes Granted page.
Spot Process Separation Studio 4™ software is packed with great features only the Freehand team can engineer that take the struggle out of color separating and bring enjoyment back to a part of pre-press that has everything to do with your on-press success! A FREE trial is available for this 3 engine solution.
Take full control of your artwork
Control means reliable screen exposure, better print production runs and greater profits. Check out these feature videos…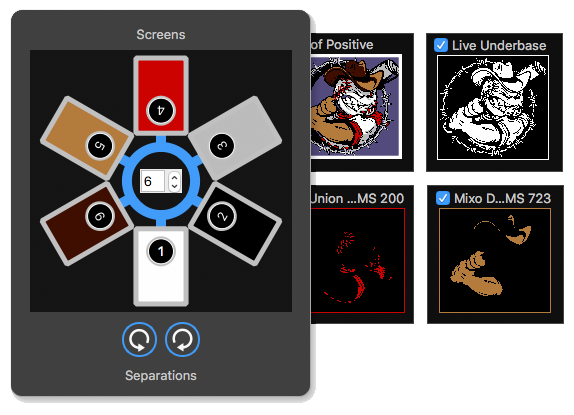 WHAT OUR CUSTOMERS ARE SAYING
Freehand was absolutely fantastic, they helped clear up our software conflicts. Fast, knowledgeable, and did I mention fast? Can't ask for better online support A+++ . Review #426

Your tech support at Freehand is truly results driven...I appreciate your team spending time on my issue. Thanks! Review #454

Thank you so much for the login. Such a simple issue that probably could not have been handled so well in any other way. Review #349

Your knowledge of the product, and the remote connection to ultimately resolve the problem and get me up and running was awesome. I really appreciate the guidance. Review #119

Once again, I send you thanks. Your professionalism and efficiency have made my job easier. We will definitely be working together in the future. Review #94

Thank you for responding so quickly. You guys have the best support web site and staff in the business. Review #174

WOW! Works like a champ. Thanks for the help. I really appreciate it. Back to work. Review #198

Great product. Great support and service. I wish we would have started out with AccuRIP instead of two dongle failures and various output issues with our original RIP software purchase. Review #232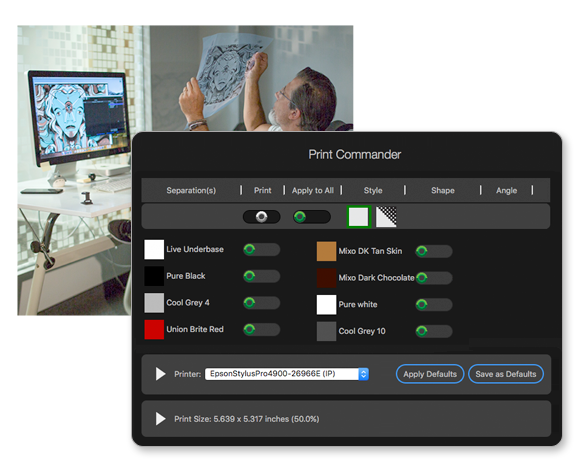 Direct to inkjet film printing – no external RIP needed to print Sep Studio 4 separations
Great films make great screen prints. Sets your creativity free with Spot Process Separation Studio 4™ and get creative even during output with a full load of pre-print features that deliver precise control while producing top-notch films.
screen print specific Print Window with preview
built-in PostScript RIP – no need to use another program
auto detects supported printers
film saving auto separation nesting
dynamic print size control
halftone size, shape and angle options
robust registration marks and labels
easy toggles to select and control output options
auto prints every file at printers setup resolution delivering best quality prints every time
on-screen quality preference appears upon the opening of each file – select on-screen speed or quality
BONUS: AccuRIP's All Black Ink™ Licensed Feature included in SPSS4 Print Commander for a full year
Supported Printer List for Spot Process Separation Studio 4™ Software matches the extensive AccuRIP™ list! No worries if you don't have a supported printer. Sep Studio separations can be saved and printed through a PostScript RIP or PostScript printer.
Fanatical Customer Service
FREE and fanatical sales and tech assistance is just a click away using our customized Zendesk online system. Freehand's U.S. based in-house team of sales and software experts that include veteran screen printers offer valuable help to all level users. And, since we are the engineers of the software, there is no better resource than this team. You are always entitled to direct assistance whether you're in trial, purchased directly, or through an Authorized Reseller. Freehand and you – together we got this.
full gallery of short, easy to watch self-help videos
articles and tips written in a screen printer's language
one-on-one support
FREE live agent support during business hours
remote logins to put a tech directly on your computer for fast resolves
file evaluation/suggestions from screen print pros with 4 decades of first-hand knowledge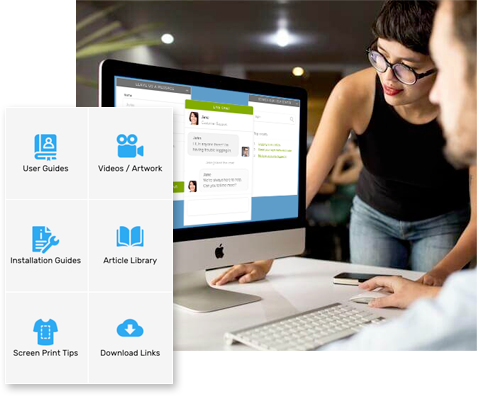 Spot Process Separation Studio 4™
The industry standard for image separations used by over 100K screen printers. Sep Studio 4 delivers even more ability to screen printers. Be a winner. Join the winning team!
Watch Videos • View Playlists • Subscribe to Channel