Design Approval
NXT-Moves™ provides customers private access to their projects under development at your shop. When a file is ready for review you will send an email via NXT-Moves. The email contains a unique link to open a specific project review chat session. Responses update in real time. Feature can be used like a live chat or responded to at any time. Responses are time stamped.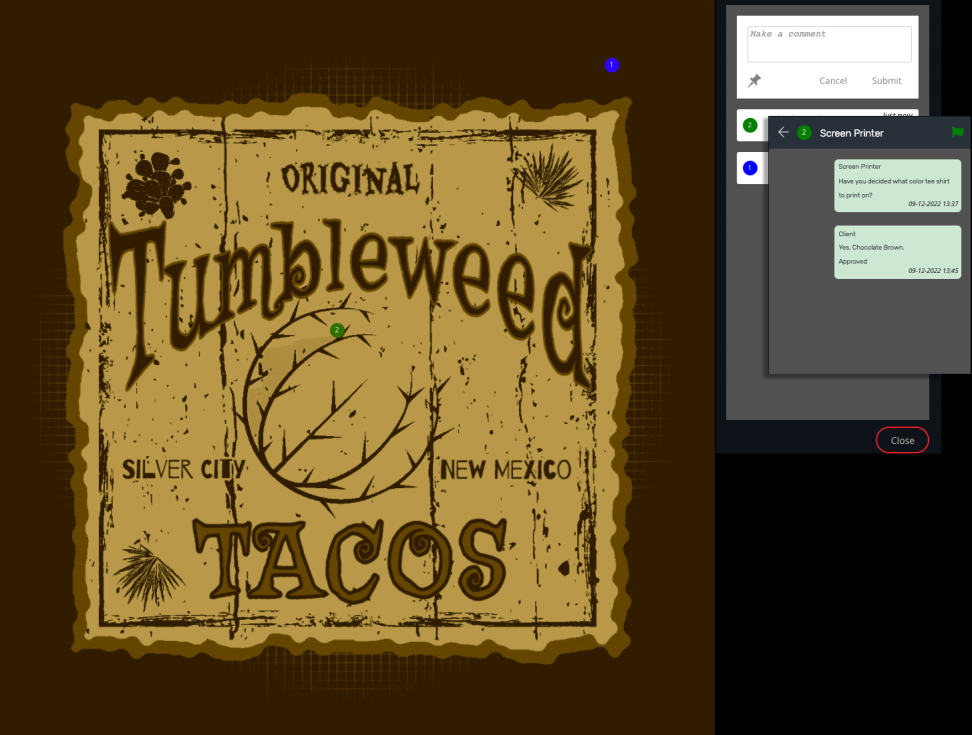 Review Icons, Features, and Threads
Each new chat bubble can be pinned to the art preview. Click or drag the pin icon to a location. Pins can be moved by clicking and dragging after applied to the preview. When no pin is applied a pin icon is showed in the chat bubble. A pin can be applied at any time.
Click a chat bubble to open a chat thread. Add to the thread then click the back arrow to return to the main Review window.
Click the "Approved" button to immediately send an approved notification to the creator. Approved button closes all abilities to add/edit comment threads. Only the "creator" has the ability to open a file for "review" after a client has "approved" the project.
Flags: an orange "Flag" icon in a review thread means the chat is open and ongoing. Click the flag icon to switch it over to green. A green flag icon means that the review thread is approved and closed. When all review threads show a green flag all review threads have been approved.